Soft, blackberry filled cupcakes with lime butter cream frosting and blackberry coulis. An explosion of flavour in every bite!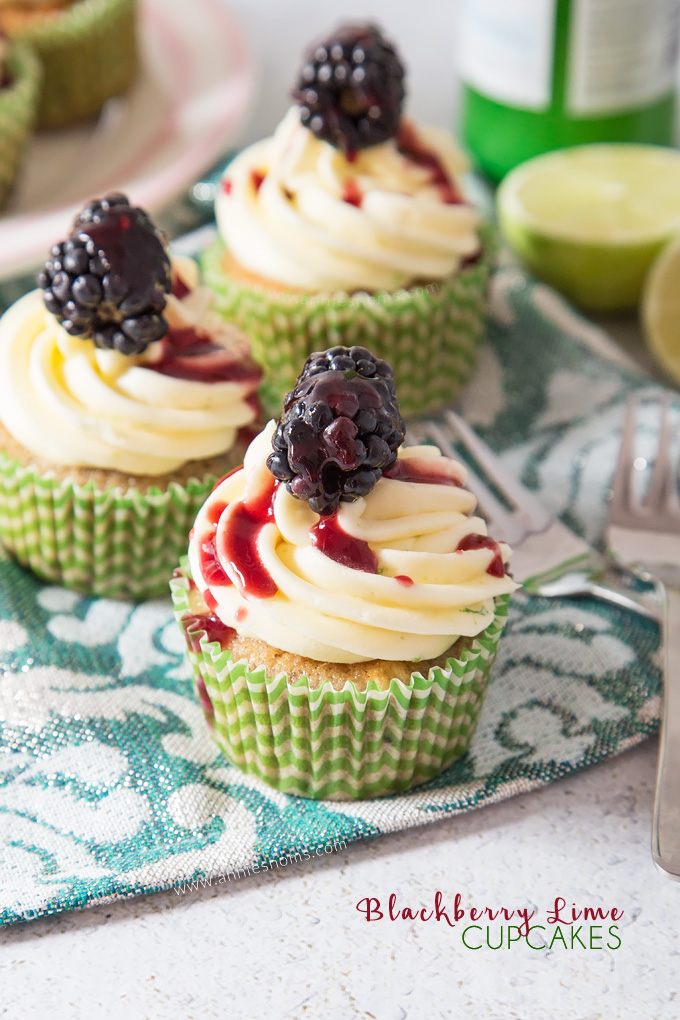 Well, hello there! I thought it had been a while since I made cupcakes, so I went all out on these Blackberry Lime Cupcakes!!
I packed the batter with lime zest and fresh blackberries, before topping these little beauties with a zesty lime buttercream, another blackberry and some blackberry coulis.
Perfection!
And the perfect way to enjoy Tuesday!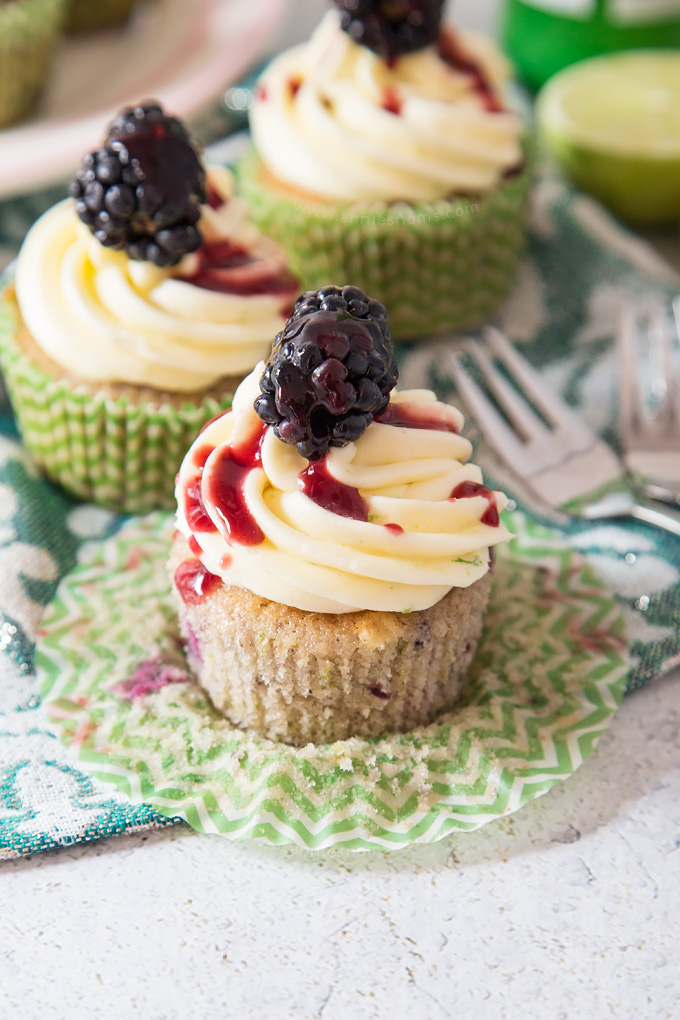 I'm guilty of always leaning towards lemons when I think of citrus desserts. But the more I use limes, the harder I fall in love with them!
They are magical. The smell, the colour, the flavour… the burst of freshness they give everything. I am in love!
Pair them with some juicy berries and you have me hook, line and sinker.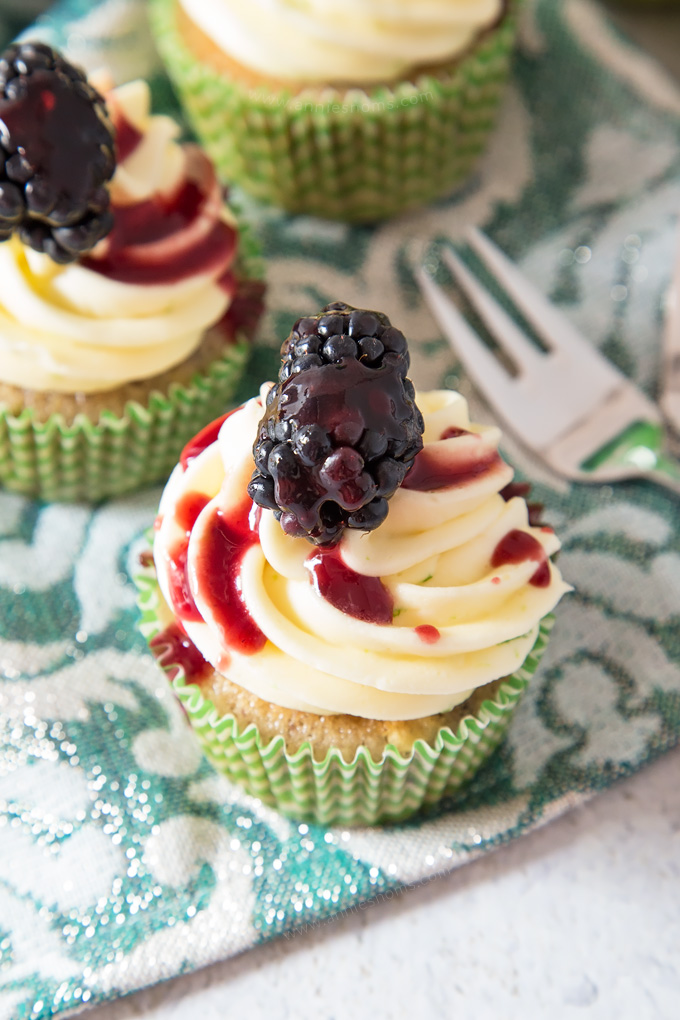 I honestly think I should change my name to The Berry Queen. This week I have already gone through over 2kg of strawberries, 600g of blueberries, 200g or raspberries and 300g of blackberries.
PHEW! It's only Tuesday!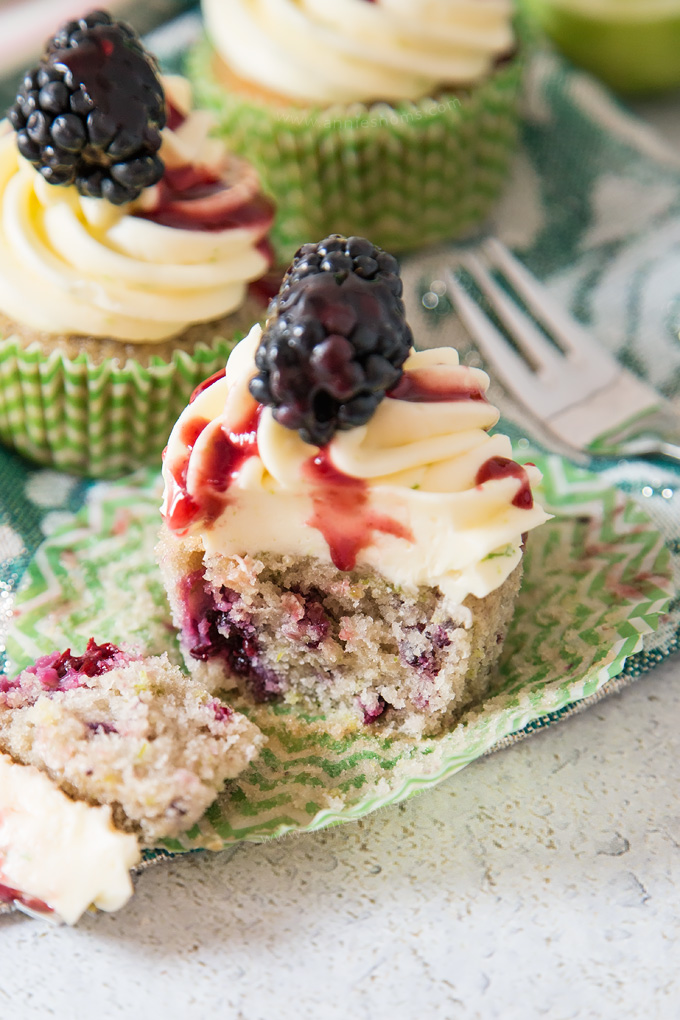 It seems to be that June is going to pretty much be a washout in the South of England, so I'm desperately trying to entice the sun out with summer flavours and a ton of fruit. It doesn't seem to be working…
I just want to enjoy my new sandals. They are cute and I can't wear them yet. 🙁 🙁 🙁
I don't think I ask too much of the weather. I don't like it overly hot and sticky. Or humid, so I'm not always begging for scorching heat… But just some warm sunshine and a cool breeze would be greatly appreciated.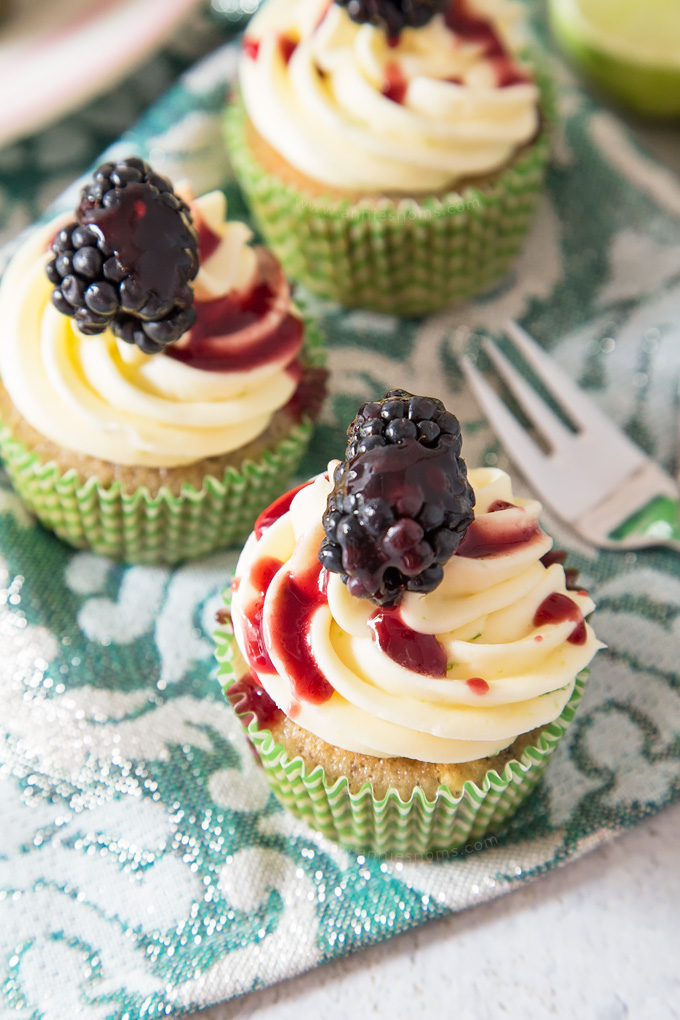 Even though these cupcakes didn't stop the rain, they did make me feel better. The cupcake batter is filled with gorgeous blackberries and the zest of 3 limes. They are soft, sweet and every so often a blackberry bursts in your mouth when you take a bite. Blissful!
And can we have serious words about this buttercream? It is sublime. Super creamy, light, sweet and tart all at once. I ate far too much and almost didn't have enough for all 12 cupcakes!!!
I honestly feel like this is the best buttercream I've ever made. It's like it dances on your taste buds. I'm seriously becoming obsessed with lime in all the things!
If you make one cupcake recipe this Summer, let it be these Blackberry Lime ones. They are the perfect marriage between berries and citrus and the best bit? They're cute!

Blackberry Lime Cupcakes
Soft, blackberry filled cupcakes with lime butter cream frosting and blackberry coulis. An explosion of flavour in every bite!
Ingredients
For the cupcakes:

1

stick (113g) unsalted butter/margarine,

at room temperature

Zest of 3 small or 2 large limes

1

cup

(200g) caster sugar

2

large eggs

1 1/2

cups

(210g) plain flour

Pinch of salt,

ONLY if using unsalted butter

2

tsp

baking powder

1

cup

(150g) blackberries,

halved

½

cup

(120ml) milk

For the frosting:

2

sticks (226g) unsalted butter

at room temperature

2 1/2

cups

(300g) icing sugar,

sifted

Zest of 2 small or 1 large lime

1 1/2

tbsp

lime juice

Extra blackberries for garnish,

optional

Blackberry coulis/sauce for garnish,

optional
Instructions
Preheat the oven to 180C/350F and line a 12 hole cupcake tray with liners.

Place the butter/margarine, lime zest and sugar into a large bowl, or the bowl of your stand mixer, and beat on medium-high speed until light and fluffy, around 2 minutes.

Add in the eggs, scraping down the sides as necessary, and mix on med-high speed until well incorporated.

Place the flour, salt (if using), baking powder and blackberry halves into a medium sized bowl and stir until all the blackberries are coated in flour. Tip this mixture into your butter/egg mixture.

Mix on low until the flour starts to incorporate and then pour in the milk. Continue mixing on low until well combined and there are no lumps of flour. Don't mix too fast otherwise, the blackberries will become mush.

Divide the batter between your cupcake liners, filling them ¾ full. I use a 2tbsp cookie scoop to ensure evenly sized cupcakes.

Place in the oven for 18-22 minutes, until rise, lightly golden and an inserted skewer into the centre comes out clean.

Transfer the cupcakes to a wire rack to cool as soon as possible. I find that if you leave them in the cupcake tray the grease makes the liners peel away from the cake.

Once cool, make the frosting: Place the butter, icing sugar, lime zest and lime juice into a large bowl, or the bowl of your stand mixer and mix on low-medium until the sugar starts to incorporate.

Once the sugar is mixed in and can no longer create a dust cloud, turn the speed up to high and beat until light and fluffy, around 2 minutes. Frosting will become slightly paler in colour.

At this stage, if the frosting is too runny, add more icing sugar 1tbsp at a time. If it is too stiff, add more lime juice, 1tsp at a time. For me, this recipe was just perfect to pipe onto my cupcakes.

Fit a piping bag with an open star nozzle and then half fill it with frosting.

Pipe a swirl onto each cooled cupcake and then top each cupcake with a whole blackberry.

Drizzle a little blackberry coulis onto each cupcake.

Blackberry Lime Cupcakes will keep in an airtight container, in the fridge for 3 days.


I link up at these great Link Parties!