An easy, no bake Summer dessert marrying together yoghurt, cream, berries and cake! Easy to prep and perfect for a crowd; these Berry Parfaits are simply scrumptious!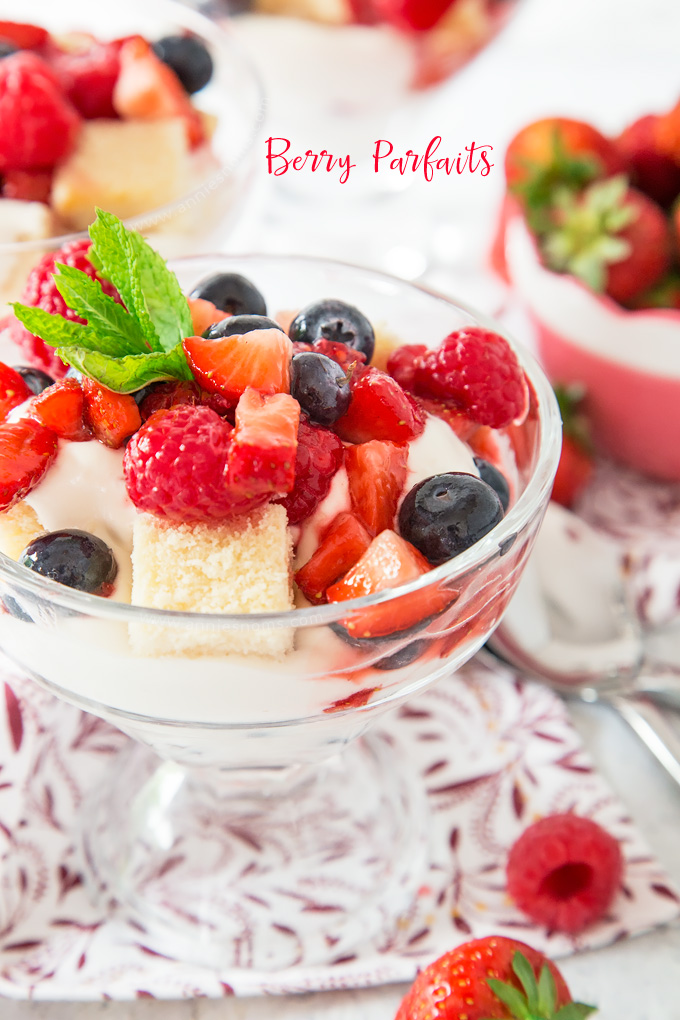 How have I never tried a parfait before?! After tasting these amazing Berry Parfaits, I can hardly believe it's taken me over 25 years to make and try one.
Holy yum!!
Also? They are SO, unbelievably easy to make!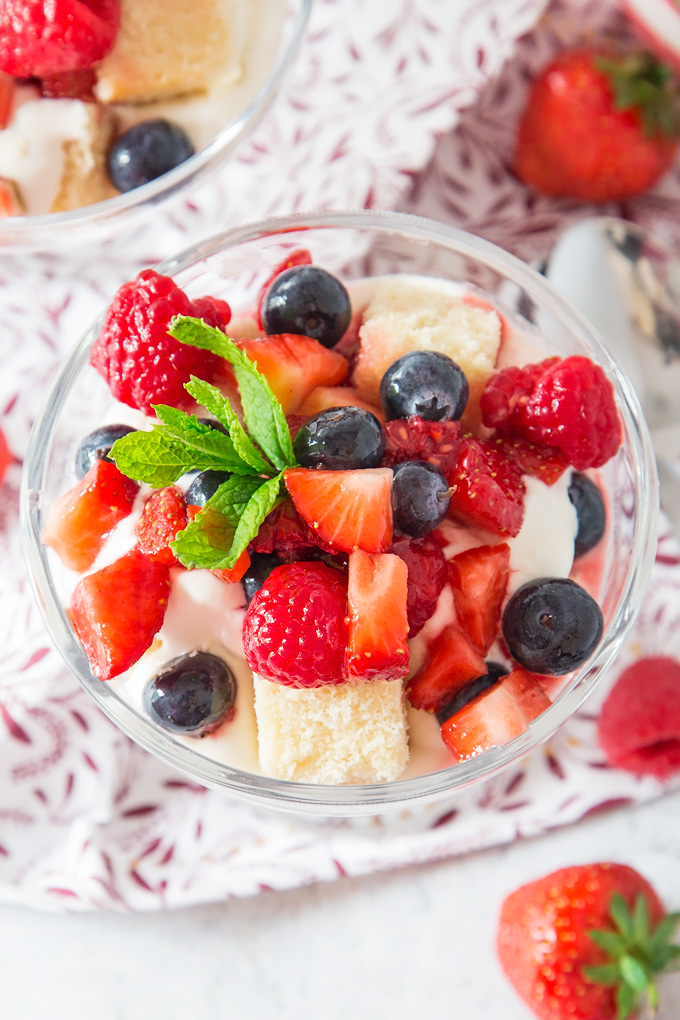 To make these Berry Parfaits, you will need a large selection of berries, cubes of white cake, (pound, Madeira, Victoria sponge…) natural yoghurt and double/heavy cream.
A large selection of berries = my kinda dessert!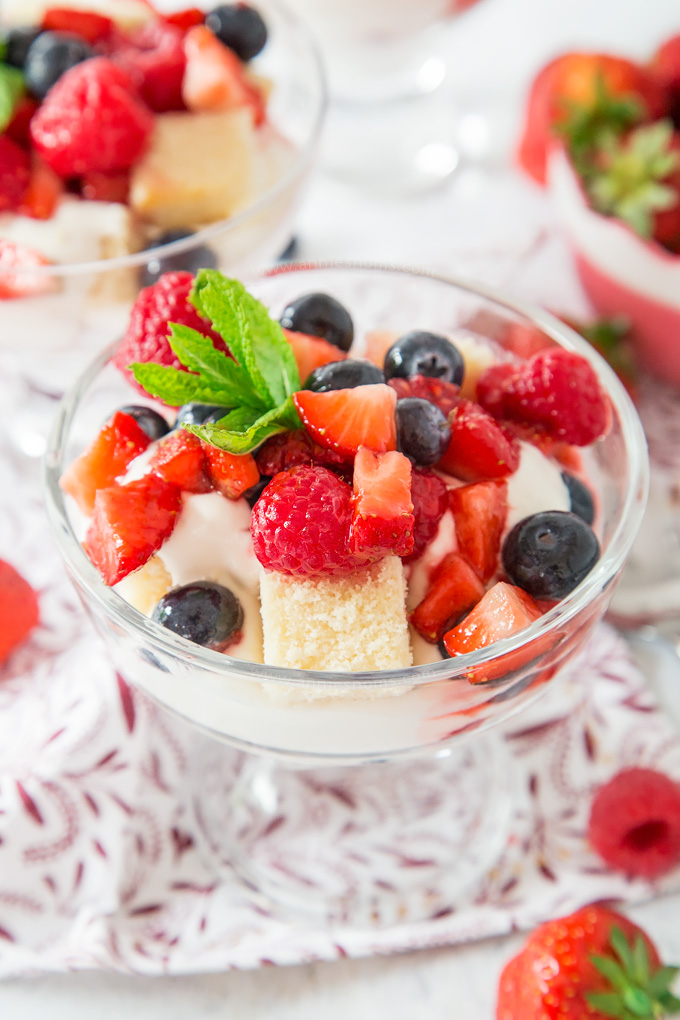 I've seen quite a few parfait recipes with all cream, or all yoghurt and a few with half and half. I decided to go with both as I know that I can't eat very creamy desserts as they make me feel ill.
(No clue why, it's the same with milk; I have to have skimmed or nothing otherwise I'm seriously sick! BLEURGH! :()
I also wanted tang from the natural yoghurt because I adore it. It just adds depth to things; it's fabulous!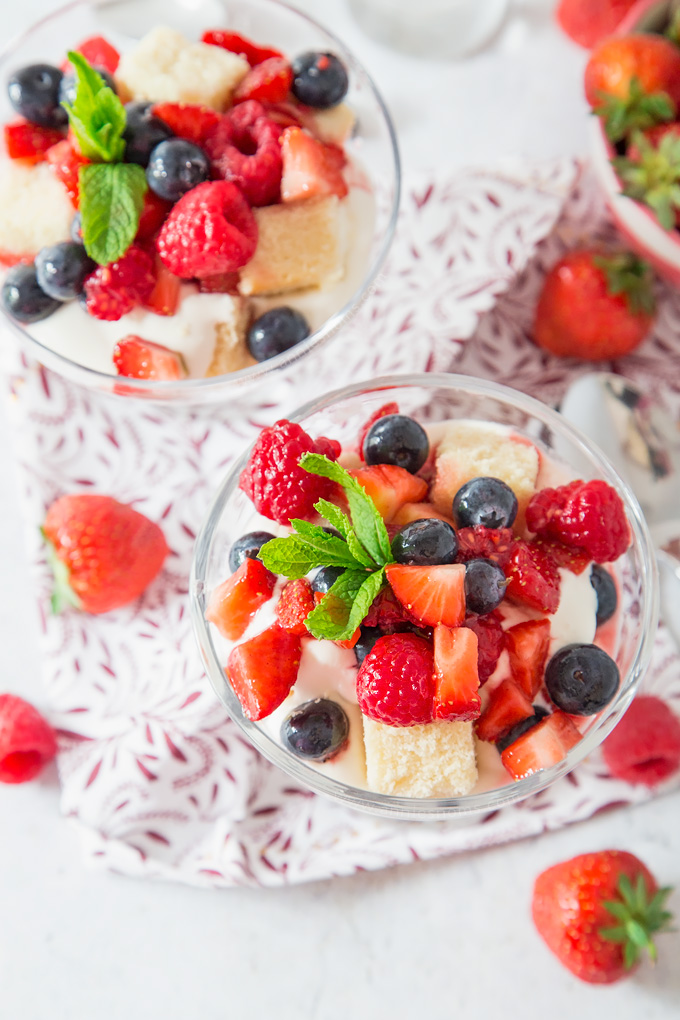 As for the cake part of this recipe: you can use whatever you have to hand, be it homemade, or store bought.
I would normally make cakes myself, but this time round, for ease, I used a shop bought Madeira which is a fairly dense white cake. I'm not sure if you get Madeira in the US, but a pound cake would be a good alternative.
Just use something that is fairly substantial and not very light like an Angel cake.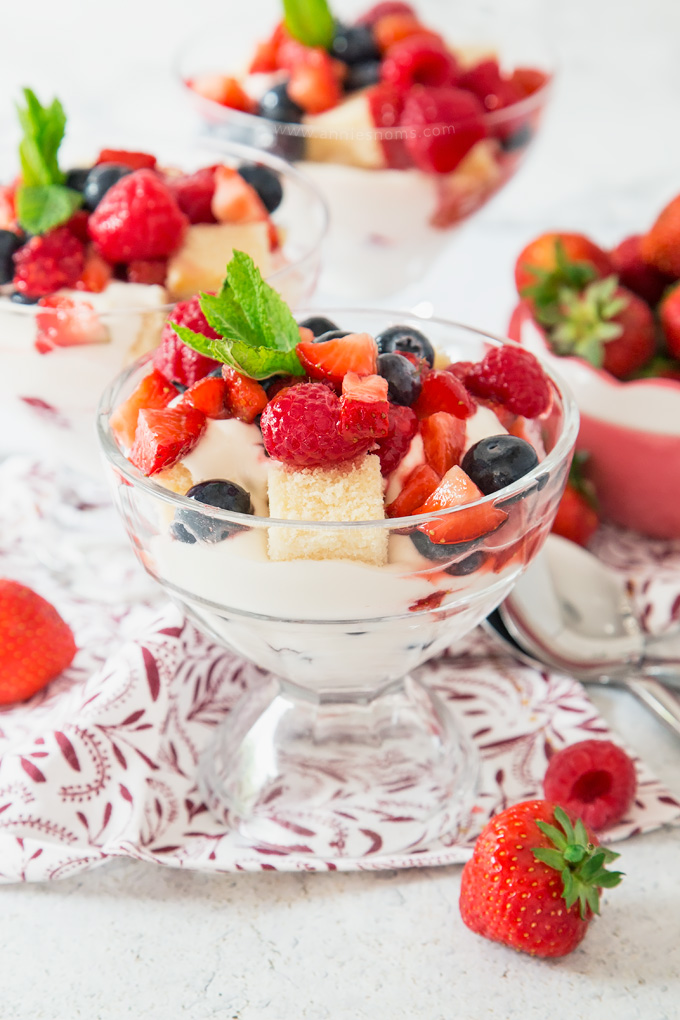 I left the cubes of cake out for a couple of hours to dry out a bit as this meant they were more stable for photos (didn't crumble or soften too quickly) and they absorbed more of the juices from the fruit. You can use them as soon as you've cut them if you prefer.
I understand not everyone has to style and photograph their dessert!! 😀
All I did was place a layers of yoghurt mixture, fruit and a few cubes of cake into individual sized glass bowl/trifle bowls and repeated the layers to make these gorgeous parfaits.
After that all you have to do is swoon over the pretty layers before digging in. It's really that simple!

Berry Parfaits
An easy, no bake Summer dessert marrying together yoghurt, cream, berries and cake! Easy to prep and perfect for a crowd!
Ingredients
1

cup

(150g) diced fresh strawberries

1

cup

(125g) fresh raspberries

1

cup

(150g) fresh blueberries

3

tbsp

white sugar

½

cup

(120ml) double/heavy cream

1

cup

(250g) natural yoghurt

2

tsp

vanilla extract

1 1/2

cups

white cake,

such as a pound cake or Madeira, sliced into ½ inch cubes, around 115g

leaves

Mint for garnishing

optional
Instructions
Place your diced strawberries, raspberries, blueberries and the sugar into a large bowl and stir until all the fruit is coated in sugar. Leave to one side.

Place double cream into a medium sized bowl and whisk until soft peak. You want it to hold its shape, but not be very firm and stiff. Add in the natural yoghurt and vanilla extract and whisk until well combined and slightly thickened.

Place 2-3tbsp of the yoghurt mixture into the bottom of an individual sized glass bowl/trifle bowl then top with 2tbsp of the fruit mixture and a few cubes of cake. Repeat the layers until the bowl is full. I repeated the layers twice, with a little extra fruit on top.

Repeat for each individual glass until you have exhausted your supplies. Place a sprig of mint into the top of each parfait and serve.

Note: You can make these a couple of hours ahead of time: make the parfaits and cover them in cling film before placing in the fridge until you're ready to serve.


I link up at these great Link Parties!