These Pumpkin Caramel Cookie Bars are sinfully good! Chewy Pumpkin cookie dough layered with thick caramel and cut into squares; you'll not be able to say no to them!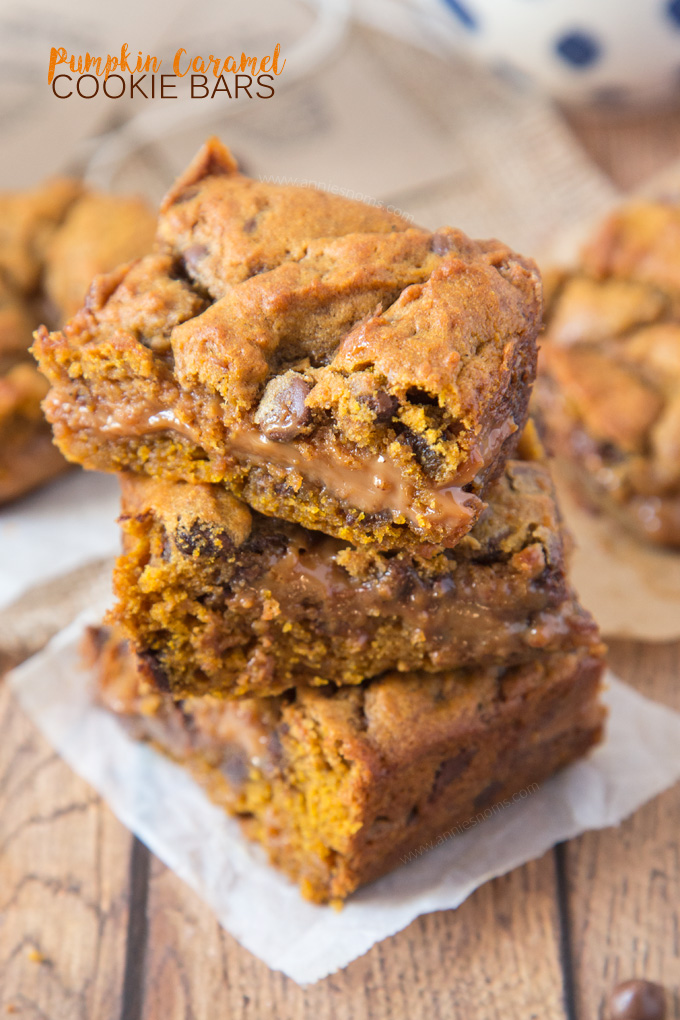 It is TIME. Time for pumpkin! You have no idea how excited I am to make all the pumpkin things. I've already had my first Pumpkin Spice Latte and I've tried the new Pumpkin Spice Frappucino. I am fully ready for Autumn!
Have you tried the PSF? I asked whether or not it had coffee in, but the woman thought I was asking if there was coffee in the PSL. I was like "Ermmm. No, the frappucino." I know there's coffee in a latte!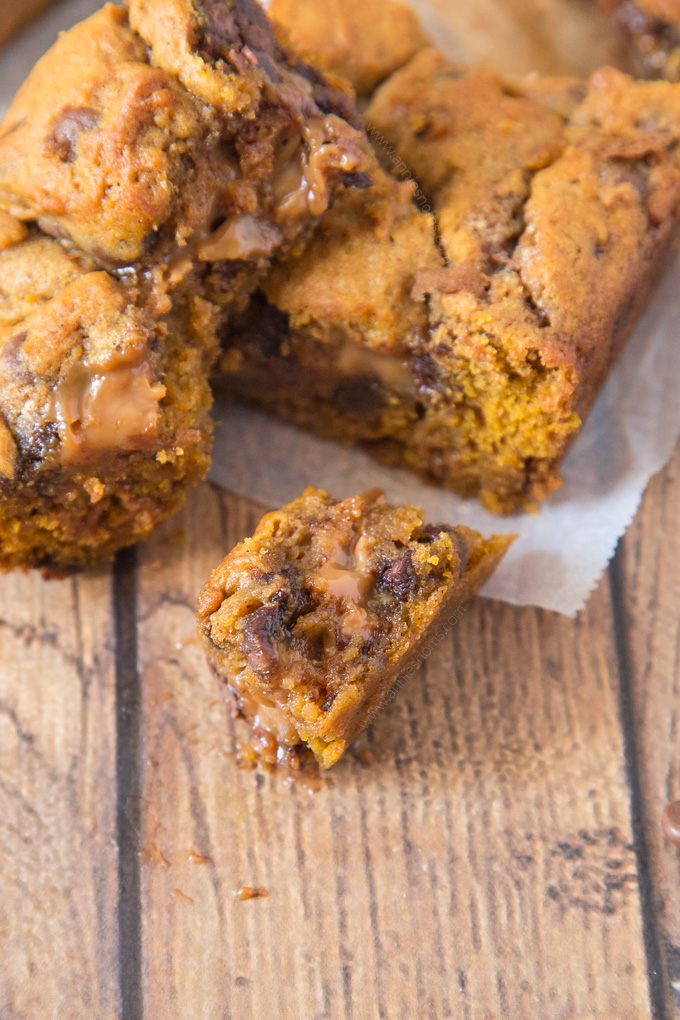 I'm still not convinced there was any coffee in there, but it tasted pretty nice. It was refreshing on an unseasonably warm September morning.
I won't be giving up my Pumpkin Spice Lattes any time soon though!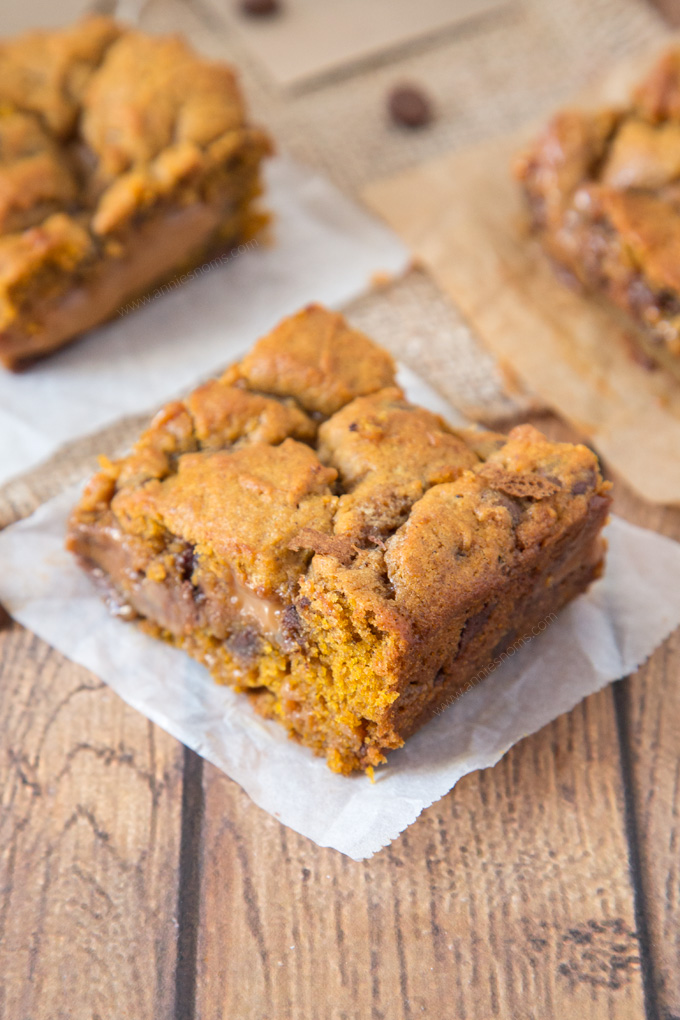 Let's talk about these bars. The idea came about when I was sat in my car with zero signal on my phone. So, I decided to use the time to brainstorm some recipe ideas, since I couldn't check Facebook!
I made a chocolate chip filled pumpkin cookie dough, baked a thick layer of it for 10 minutes before spooning ½ a can of Carnation Caramel on top of the cookie dough. To finish it off, I spooned the remainder of my cookie dough on the top and placed it back in the oven to become these insane, out of this world Cookie Bars.
Word of caution: It was HOT here today and when these bars get hot, they get soft. I refrigerated them to slice them and then had to battle to photograph them because the caramel was starting to melt! (I photograph by a window that the sun comes directly through!) Ordinarily they would be fine though and they hold up great when cool!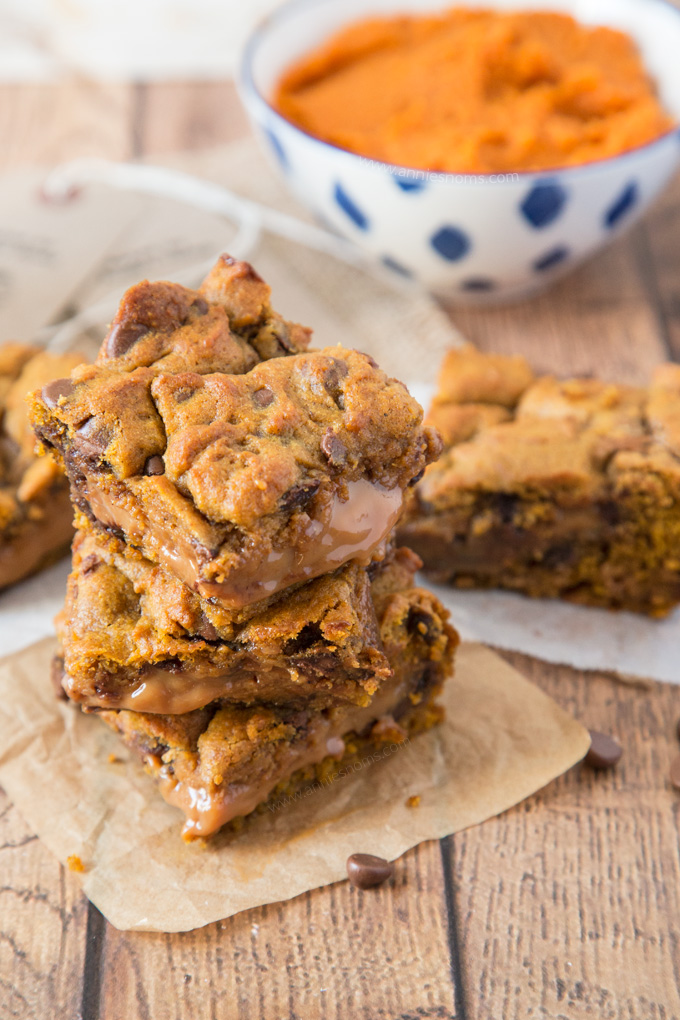 OMG just look at that oozing caramel centre. It is the perfect complement to the chocolate filled cookie layers.
I'll leave you to swoon at them and get right to the recipe!

Pumpkin Caramel Cookie Bars
These Pumpkin Caramel Cookie Bars are sinfully good! Chewy Pumpkin cookie dough layered with thick caramel and cut into squares; you'll not be able to say no to them!
Ingredients
For the cookie dough:

3/4

cup

(150g) light brown sugar

1 1/2

sticks (170g) unsalted butter,

at room temperature

1

large egg

1/2

tsp

vanilla extract

¾

cup

(180g) pumpkin puree,

not pie filling

1 1/2

cups

(210g) plain flour

2

tsp

cornflour/cornstarch

1

tsp

ground cinnamon

1/2

tsp

ground ginger

1/2

tsp

ground nutmeg

1/4

tsp

ground cloves

1

tsp

bicarbonate of soda/baking soda

1/2

tsp

baking powder

Pinch of salt

1

cup

(175g) milk chocolate chips

For the filling:

7

oz

(200g) Carnation Caramel
Instructions
Preheat the oven to 180C/350F and grease and line an 11x7 inch pan.

Place sugar and butter into a large bowl, or the bowl of your stand mixer and beat until light and fluffy. About 2 minutes on medium-high speed.

Add in the egg and vanilla extract, scraping down the sides as necessary, then mix until well incorporated, about 1 minute.

Add in the pumpkin and then place the flour, cornflour, spices, bicarb, baking powder, salt and chocolate chips into a medium sized bowl and stir until the chocolate chips are coated in flour.

Tip the flour mixture into your egg mixture and mix on low until a soft dough forms.

Spoon just over ½ of the cookie mixture into your prepared pan and spread into an even layer.

Place in the oven for 10 minutes until slightly puffy, then remove from the oven and spoon the caramel all over the cookie dough. It's OK if you leave a few gaps, but try and coax the caramel to cover 95% of the cookie base. Don't try and spread it with a spatula as the dough is still too soft at this stage and you'll end up with a messy mixture!

Spoon the remaining cookie dough over the caramel layer. Again, it is fine if there are bits of caramel peeking through, but you should have enough to basically cover it all.

Place in the oven for 15-20 minutes until the top is risen and golden and feel a little crunchy to the touch. If you wobble the pan, the whole mixture should wobble slightly still. You want it to be soft because it will firm up as it cools.

Leave to cool in the pan completely, before placing in the fridge until firm. Then transfer the Cookie Bars onto a cutting board and slice into 9-12 bars.

Best served at room temperature. Placing them in the fridge makes them easier to cut.

Pumpkin Caramel Cookie Bars will keep in an airtight container, at room temperature, for 4 days.
Notes
Word of caution: It was seriously hot and humid here yesterday and when the caramel gets hot, it will start to melt and make these bars ultra gooey. They are fine in "ordinary" temperatures and hold up great in the fridge!


I link up at these great Link Parties!