Flaky, buttery shortcakes filled with tender apples cooked in caramel sauce and topped with sweetened whipped cream. One seriously decadent, yet addictive dessert!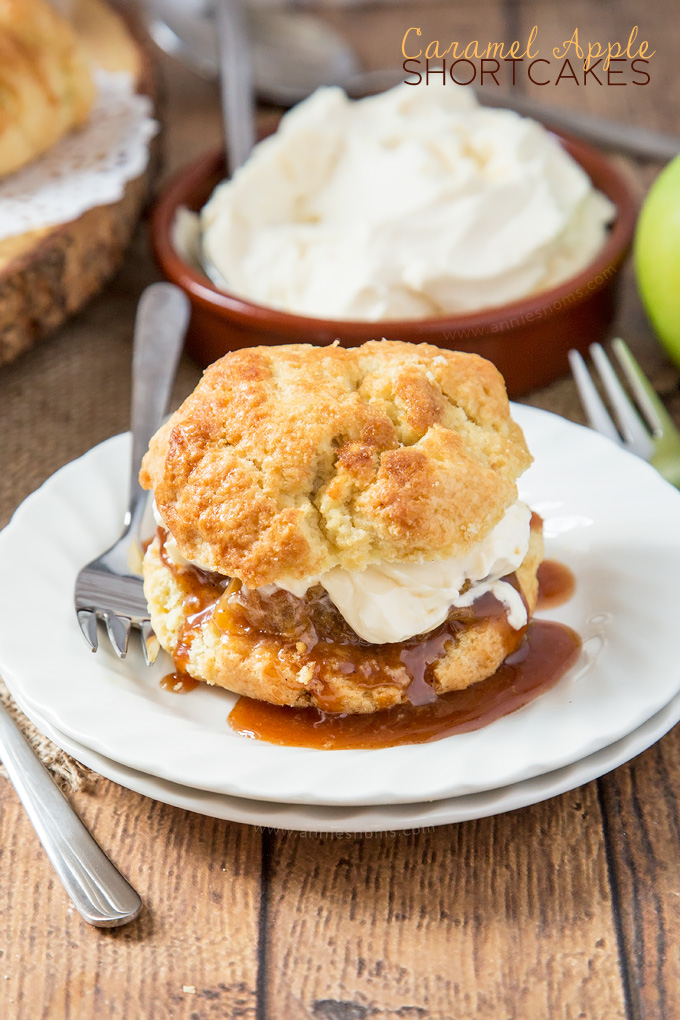 Boy, it's been a week! It's been kind of good, kind of crazy busy and also a bit sad.
It was a year ago that my Grandad died on Monday and I cannot believe it. It seriously seems like yesterday, how has it gone so fast? I got pretty overwhelmed and upset on Monday evening; up until then I'd been working like a mad woman, trying to keep my mind off it. I was pretty upset last week too, just knowing that it was coming up.
It's the weirdest thing… like up to 6 months I was taking it week by week, then when it got to being over 6 months I got pretty upset as it was closer to a year than it was half a year. It's hard to explain, but to me that just seemed to affect me more. Getting over the 6 month mark and realising the next "milestone" was a year. I don't even know if that previous paragraph made sense. I really don't know how to explain it.
Grief is such a strange roller coaster.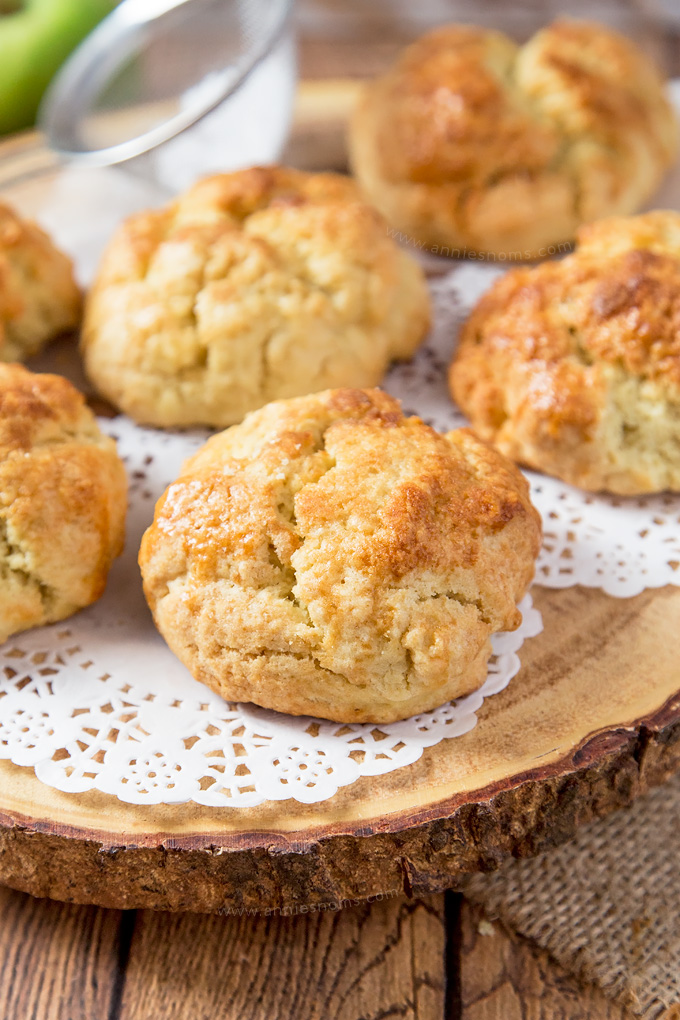 On a positive note, I picked up my wedding planning book for the first time since he passed on the anniversary of his passing. I finally felt ready to open it back up and I know he would have wanted me to have the wedding of my dreams. I also shared my first wedding post on the blog on Tuesday; how we picked our venue.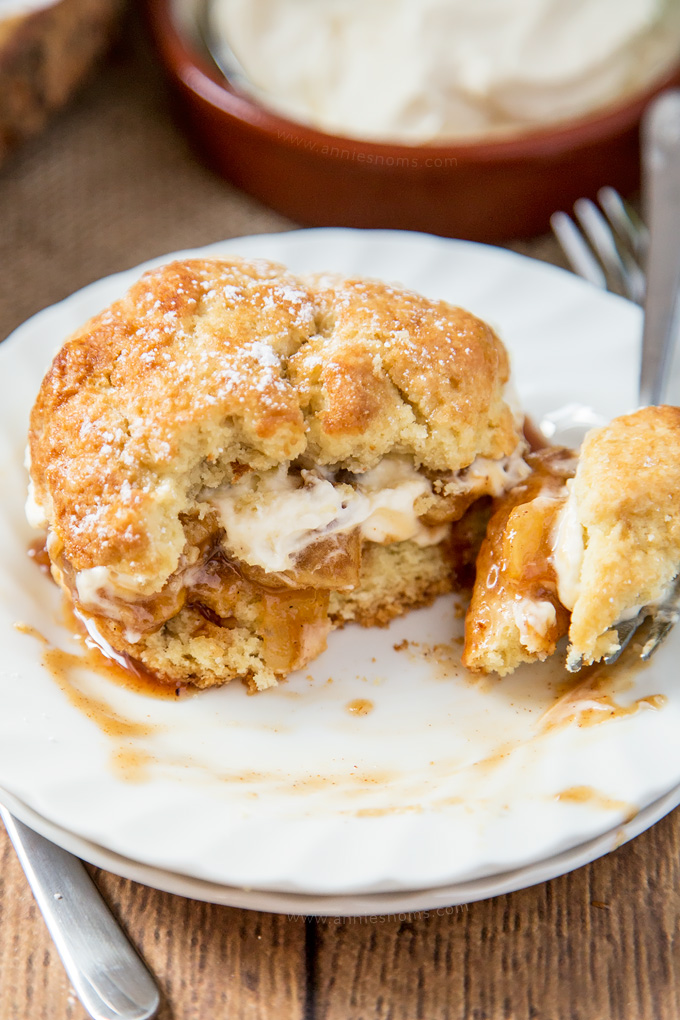 Now, let's talk about the crazy part of this week. Last week and this week have been the biggest bump back to reality. It's been mad here and I feel like the only thing I'm missing is a broom out of my butt to keep up with the housework!!
BUT, that does mean that I'm back in the kitchen with a vengeance and ready to make all the Autumnal recipes I can.
Like these Caramel Apple Shortcakes. Because Shortcakes aren't just for Summer!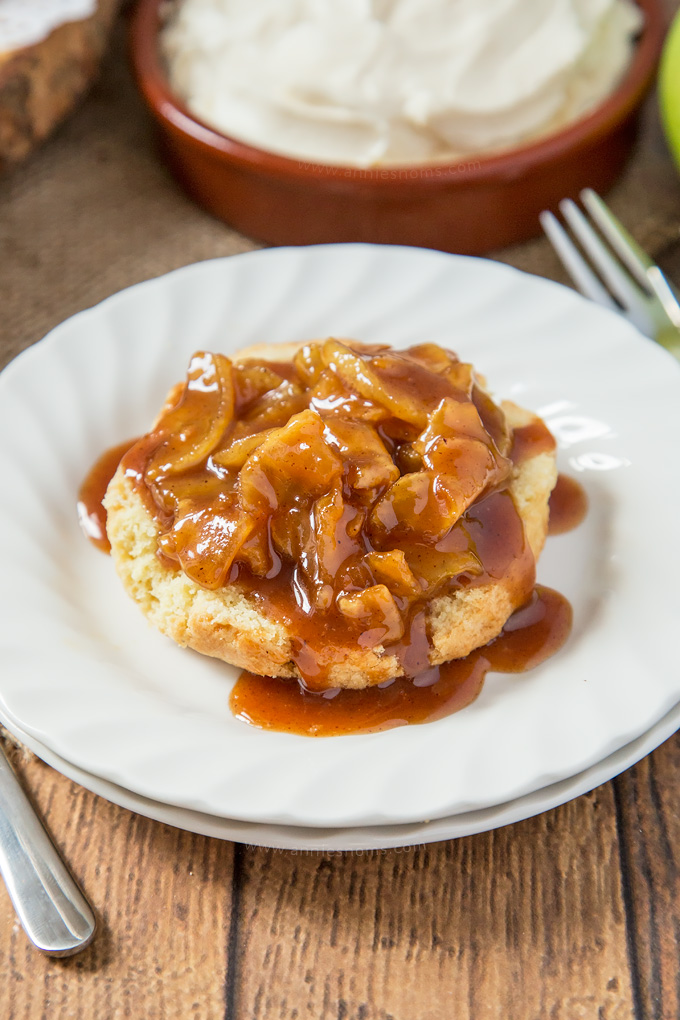 I adore Strawberry Shortcakes, but now strawberry season has gone, yet I still want buttery, flaky shortcakes in my life. So, I decided that I had to make an Autumnal version and what could be better than Caramel Apple?!
Mr Annie's Noms and I were both deemed speechless by how amazing these are. One bite and we were both in love. The flaky biscuit, the soft, sweet apple layer and the velvety smooth, whipped cream layer all marry together to create one insanely fantastic dessert.
You need to try these and don't be put off by the long recipe. There may be many steps, but these are easy!


Caramel Apple Shortcakes
Flaky, buttery shortcakes filled with tender apples cooked in caramel sauce and topped with sweetened whipped cream. One seriously decadent, yet addictive dessert!
Ingredients
For the shortcakes:

2 1/2

cups

(350g) plain flour

1

tbsp

baking powder

1/2

tsp

bicarbonate of soda/baking soda

Pinch of salt

3

tbsp

white sugar

1

stick (113g) unsalted butter,

cold and cut into cubes

½

cup

+ 3tbsp (165ml) double/heavy cream

1

large egg

1

small or ½ of a large egg,

beaten lightly for egg wash

A little light brown sugar to sprinkle on the top,

optional

For the caramel apple filling:

3

medium or 4 small crisp apples,

peeled, cored and sliced thinly (I used a mixture of Granny Smith and Braeburn)

½

cup

(160g) caramel sauce

(see note)

Pinch of ground nutmeg

Pinch of ground ginger

1/4

tsp

ground cinnamon

1

tbsp

double/heavy cream

For the sweetened whipped cream:

1

cup

(240ml) double/heavy cream

1/2

tsp

vanilla extract

2

tbsp

icing/powdered sugar,

sifted
Instructions
Make the shortcakes first: Preheat the oven to 200C/400F and line a large baking tray with grease proof paper/a silicone mat/a Silpat.

Place the flour, baking powder, bicarb, salt, white sugar and cubed butter into a large bowl.

Rub the butter into the flour until you have a mixture which resembles coarse breadcrumbs. Some slightly large lumps of butter are fine.

Place the cream and egg into a jug and beat lightly, then pour 2/3 of it into your flour mixture.

Start to bring the mixture together with a fork, mixing gently and coaxing it into a soft dough. Add the remaining cream mixture a little at a time until your dough just comes together. You don't want any lumps of flour not incorporated, but you don't want a very soft, sticky dough. It needs to hold, but not be like a cookie dough!

Half the dough, then half it again and then again until you have 8 balls of dough.

Roughly shape them into a ball (these look better the more "rustic" they are) and then place 2 inches apart on your lined baking tray.

If desired, brush the tops with egg and sprinkle a little light brown sugar on the top of each shortcake. This step is not imperative, but does give you gorgeously golden, glossy shortcakes.

Place in the oven for 10-12 minutes, until risen, golden and they sound hollow when you tap them. They should still feel a little soft underneath the top, but not so soft they feel raw.

Leave to cool completely on the tray.

Whilst they are cooling, make the caramel apple filling: Place sliced apples, caramel sauce, spices and cream into a medium sized saucepan and place over a medium heat. Bring to a boil, stirring frequently and then cook until the caramel sauce darkens, becomes thicker and the apples are tender, 7-9 minutes. Leave to cool. (The caramel mixture will thicken more as it cools).

Whilst the apple mixture is cooling, make the whipped cream filling: Place cream, vanilla extract and sifted icing sugar into a large bowl and whisk until soft peaks form. You want it to hold a peak and be spreadable, but not so stiff you could stand a spoon in.

When the shortcakes are cooled completely, slice them in half horizontally and then divide the apple mixture between the 8 shortcakes, spooning it into the centre of each shortcake base.

Top the apple mixture with a dollop of whipped cream and spread gently just to ensure you have a pretty level layer of cream.

Top with the shortcake tops and dust with icing sugar, if desired.

Caramel Apple Shortcakes are best served on the day of being made, but you can make all the components without assembling the shortcakes, then keep them in airtight containers in the fridge overnight. Bring to room temperature before assembling and serving the shortcakes!
Notes
NOTE: I used this Da Vinci's Caramel Sauce. It was the perfect consistency for this recipe as it coated the back of a spoon and got a little thicker once cooked and cooled. If you can't find this, make sure you use a thick sauce, not a normal runny ice cream topper! I know the supermarkets in the UK do salted caramel versions in jars and I see no reason why that wouldn't be awesome too. Salted Caramel is amazing too!


I link up at these great Link Parties!