Your perfect base recipe for Pumpkin Spice Granola. Ready for whatever add ins you want, but also delicious on its own!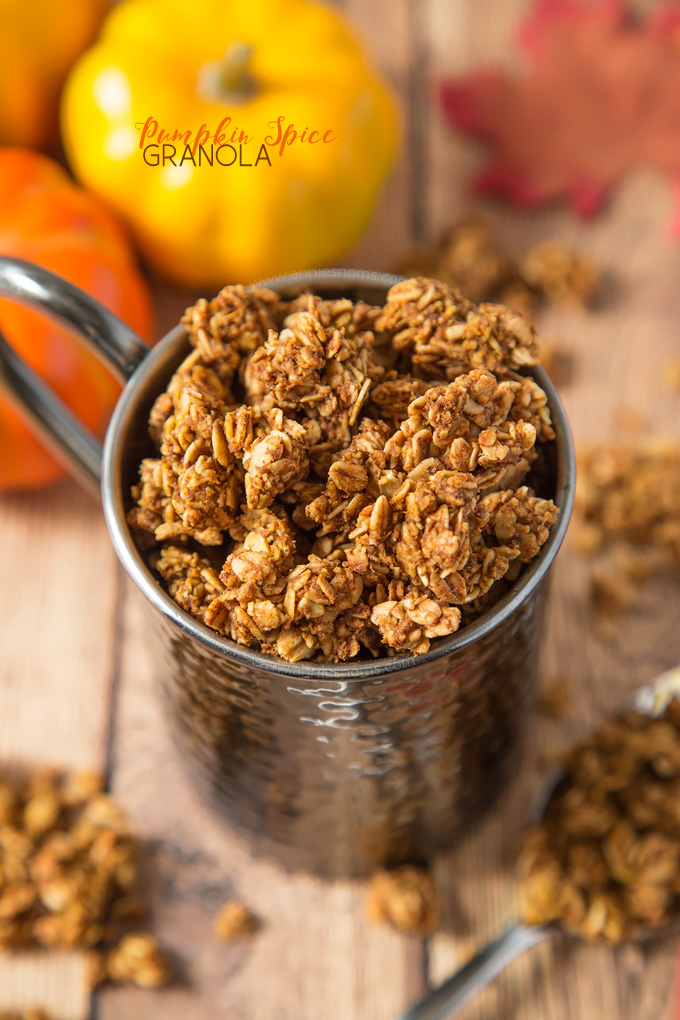 Happy Tuesday! I am declaring this week Pumpkin Spice week on the blog! Because I'm ridiculously over excited about pumpkin and I cannot hide it!
First up this week is the most perfect Pumpkin Spice Granola I have ever eaten. Lightly orange hued, crunchy and filled with spices, this is the most perfect base for any additional flavours/textures you want: cranberries, pumpkin seeds, pecans… anything!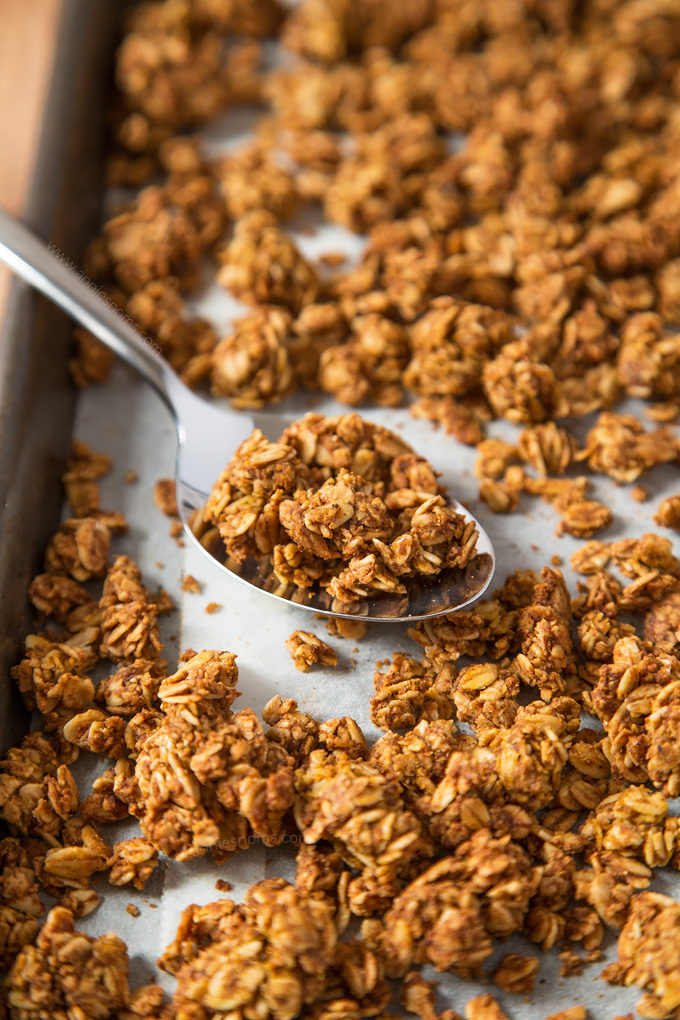 It's also pretty, darn addictive alone.
I don't know about you, but for me, granola is soooooo, super addictive. Oh my gosh. I just can't stop eating it! When it came out of the oven, when it cooled, when I was styling it…. I'm desperately trying to stop myself going back out to the kitchen and cracking it open again now.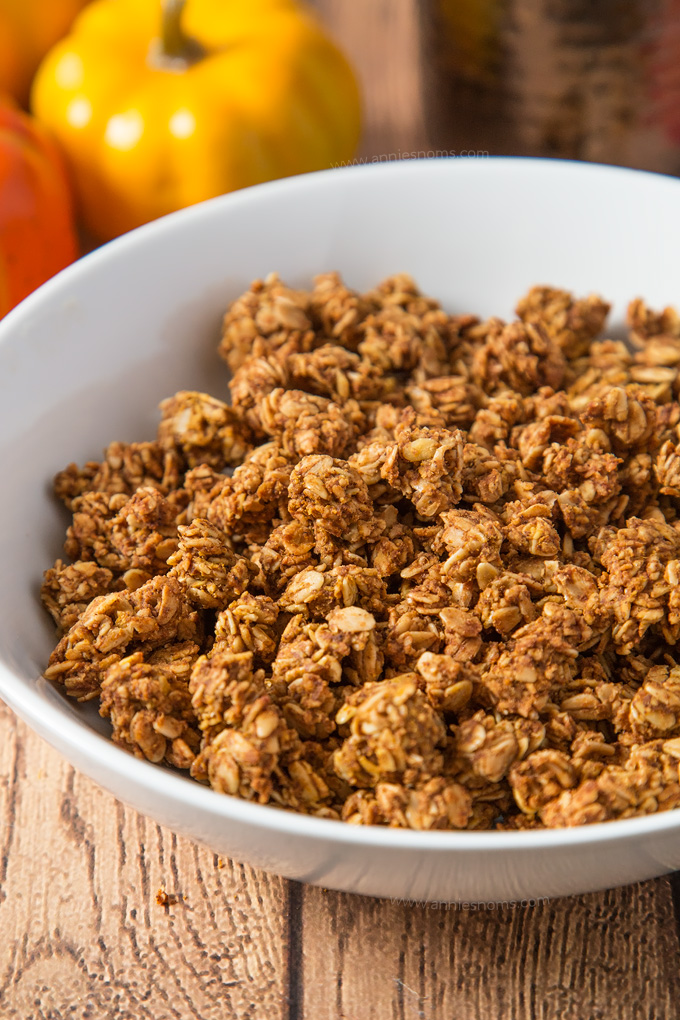 I know there are many variants of granola available in the shops, but being allergic to nuts (and more recently honey) means it's difficult for me to find a granola that won't kill me.
Well, maybe that's an exaggeration, but at the very least, make me very ill.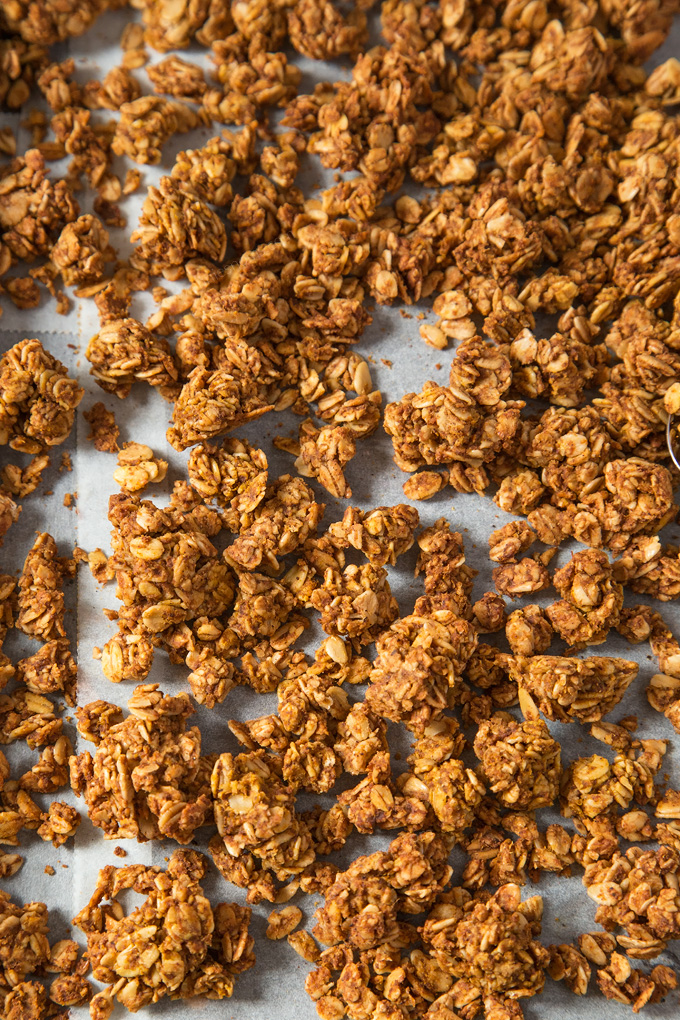 So, what's a girl to do?
Make it herself of course! Yes, this is honey free and nut free, so totally safe for those with nut allergies.
I mixed rolled oats with pumpkin purée, a little light brown sugar, plenty of spices, a touch of maple syrup, some oil and a splash of vanilla.
Stir it all up, spread it on a baking tray, pop it in the oven and then wait for the magic to happen.
Once it cool, you'll have perfectly crunchy, spicy, sweet chunks of granola just begging to be drowned in milk and eaten on an Autumn morning!

Pumpkin Spice Granola
Your perfect base recipe for Pumpkin Spice Granola. Ready for whatever add ins you want, but also delicious on its own!
Ingredients
3

cups

(240g) rolled oats,

not quick cook

1/4

cup

(50g) light brown sugar

1 1/2

tsp

ground cinnamon

3/4

tsp

ground ginger

3/4

tsp

ground nutmeg

1/2

tsp

ground cloves

1/2

tsp

ground allspice

1/2

tsp

vanilla extract

1/4

cup

(60ml) vegetable/sunflower oil

1

tbsp

maple syrup

1/2

cup

(120g) pumpkin pureé,

not pie filling

1/2 - 3/4

cup

add ins: pumpkin seeds, cranberries, pecans etc,

optional
Instructions
Preheat the oven to 160C/325F and line a baking tray with a Silpat/silicone mat/grease proof paper.

Place oats, sugar, spices and vanilla extract into a large bowl and stir until the oats are coated in the spices.

Add in oil, maple syrup and pumpkin purée and mix until well combined and the purée and oil has coated everything.

Tip onto your prepared baking tray and spread out evenly. Don't worry too much about flattening into one layer as you want some clumps of oats, but just loosely spread it out to fill the baking tray.

Place in the oven for 35-45 minutes, taking out every 15 minutes to stir and make sure the oats toast evenly.

Once the mixture has darkened and is crisp to the touch, leave to cool completely before storing in an airtight container, at room temperature.

Serve with milk, yoghurt or just snack on it by the handful!

Pumpkin Spice Granola will keep for one week.


I link up at these great Link Parties!