These perfectly golden, flaky Pumpkin Spice Croissant Doughnuts are ridiculously easy to make and utterly divine. Got 30 minutes? Then you have time to make these!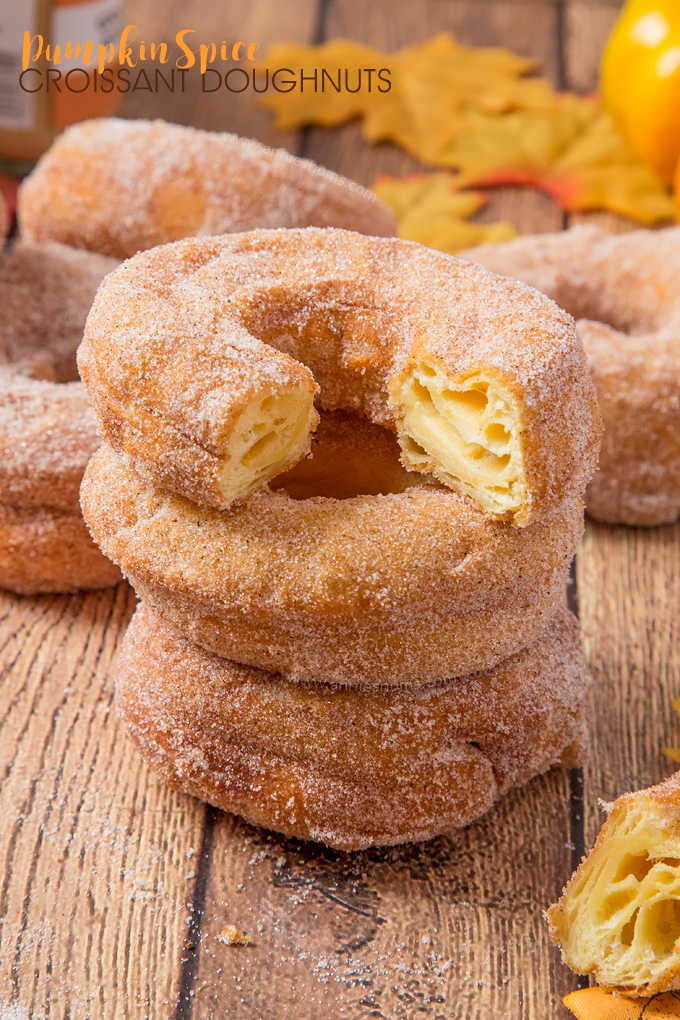 Time for another Pumpkin Spice recipe!!
I'm particularly excited about this one, I must say. These are not just normal doughnuts. Oh no, these are croissant doughnuts! Made by cutting croissant dough into rounds and then frying until golden.
I've wanted to play around with some sort of dough (be it puff or croissant) and make them into doughnuts for a while, but I kept putting it off. Then, the other day I saw a tube of Croissant dough in the supermarket and was like "YESSSS. OK, this is happening!" AND they're being rolled in Pumpkin Spice sugar!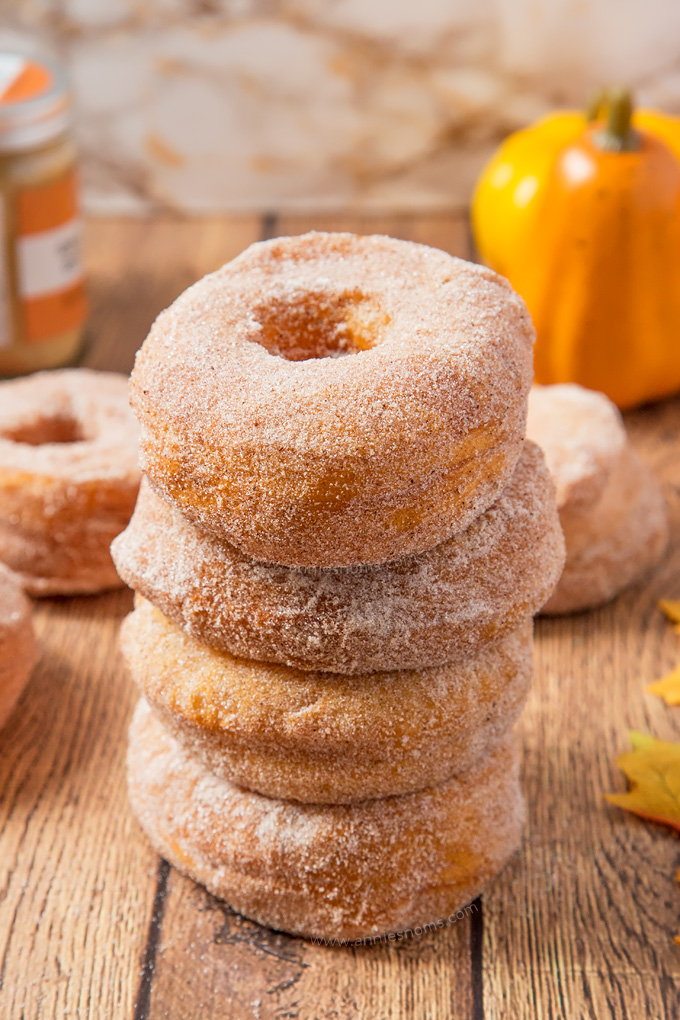 Of course, the original croissant doughnut hybrid idea is not mine and is called a Cronut, but these aren't cronuts, they are my super easy version, so I decided on Croissant Doughnuts instead.
As a food blogger and photographer, I get to make new things all the time. In fact, making something new is the best bit, I get so excited to see how it will turn out. Sometimes, there's that apprehension that you've done something wrong and it will turn out terribly, but with these?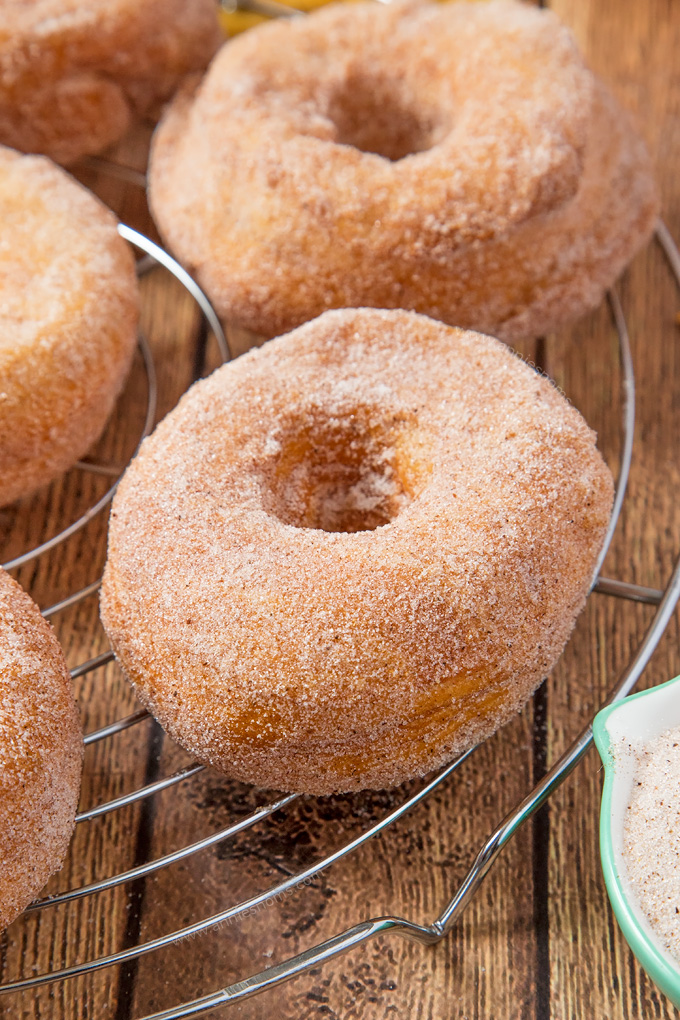 They turned out PERFECTLY. Dropping the dough into hot oil and seeing them start to bubble filled me with pure joy. There's not much better in life than food that's fried. Chips? Better when fried. Fish? Better when dipped in batter and fried.
Croissants? I now believe these are better fried too! Heck, they're not something you'd want to eat every morning, but as a treat? They are out of this world!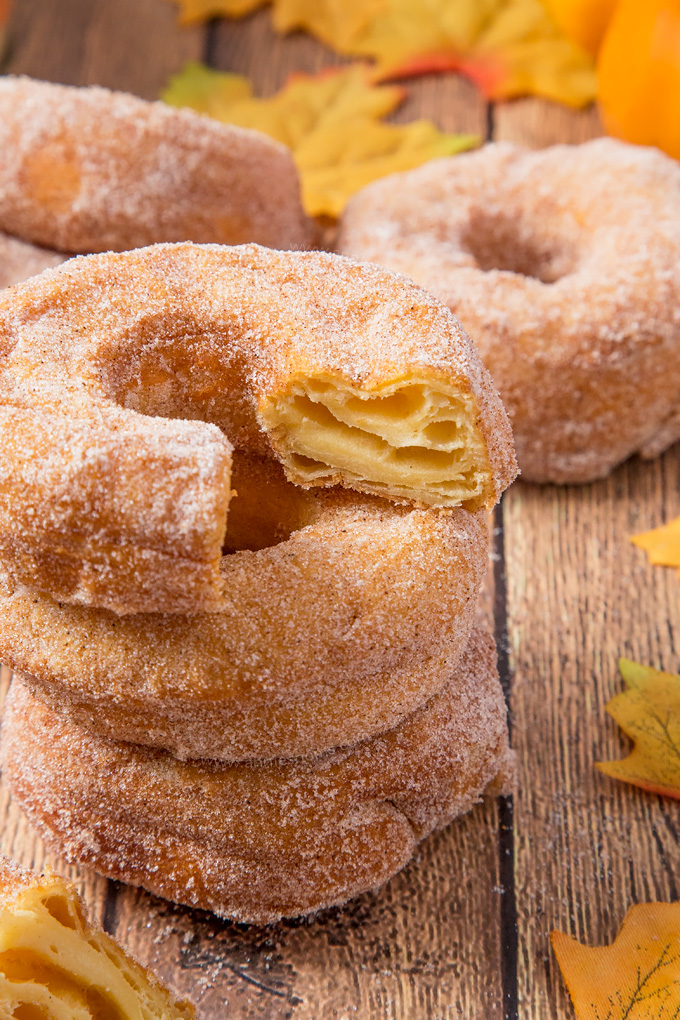 The outside is golden and crisp, then you bite into a pillow of soft buttery, layered dough. All rolled in a spicy, sweet pumpkin spice sugar mix to finish them off.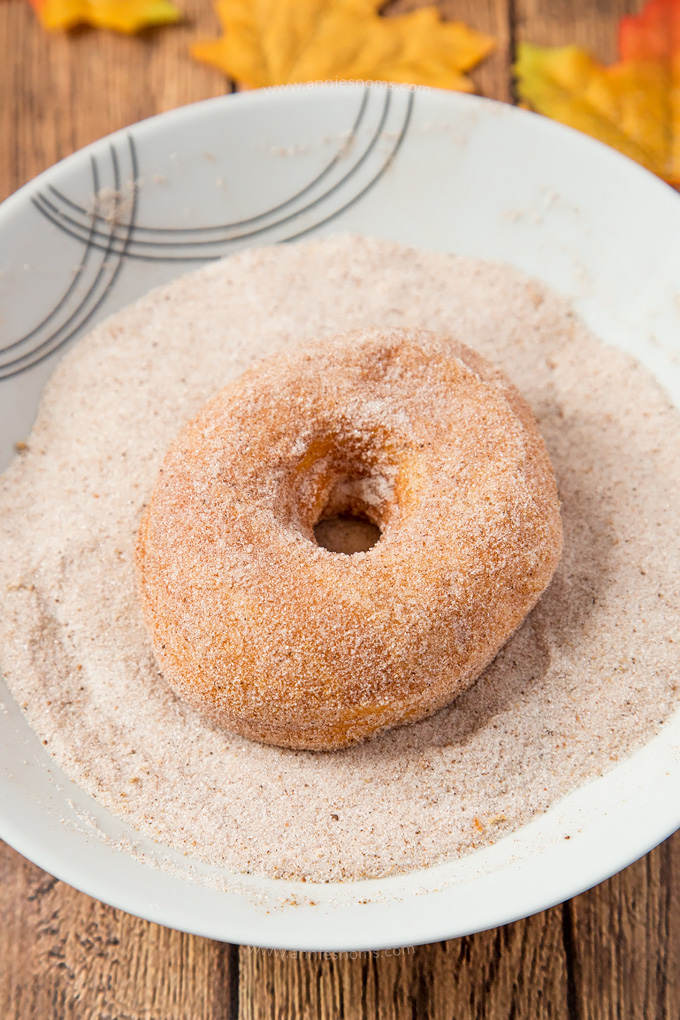 I totally will not tell anyone if you make these, then eat them all yourself!
P.S. I know some people will be like ":O bought croissant dough?!?!". You can make it yourself, I have before, but I wanted this recipe to be quick and easy, so shop bought is the way to go if you want these Croissant Doughnuts in under 30 minutes!


Pumpkin Spice Croissant Doughnuts
These perfectly golden, flaky Pumpkin Spice Croissant Doughnuts are ridiculously easy to make and utterly divine. Got 30 minutes? Then you have time to make these!
Ingredients
Two 350g/12oz rolls of Croissant dough,

I used Jus-Rol

½

cup

(100g) granulated/caster sugar

1 1/2

tsp

ground cinnamon

3/4

tsp

ground ginger

1/2

tsp

ground nutmeg

1/2

tsp

ground cloves

1/2

tsp

ground all spice
Instructions
Preheat a deep fat fryer to 180C/350F. Alternatively, you can place 3-4 inches of vegetable/sunflower oil into a deep pan over a medium heat and heat until a candy thermometer reads 180C/350F. – Please be careful heating oil without a deep fat fryer as the temperature is not controlled by a thermostat and could get very, very hot!

Place a wire rack over some paper towels for your doughnuts to cool.

I got 4 doughnuts plus a little extra from each pack of croissant dough and rolled them separately because I didn't have much space. You could mix both doughs together, just be careful not to knead and play with the dough too much.

Flour your worktop lightly and your rolling pin, before rolling out the croissant dough until it's ½ an inch thick.

Using a 3 inch doughnut cutter (or a 4 inch round cutter and 1 and ½ inch round cutter to cut out the middle) cut as many doughnuts as you can out; I got 3 before having to re roll my dough.

Once your oil is up to temperature, drop one doughnut in and wait at least 30 seconds before dropping another one in. I would advise against doing any more than 3 at a time as the oil temperature will drop and the dough will just absorb the cooler oil.

Fry each side of your croissant doughnut until golden, around 2 minutes per side, then transfer to your wire rack to drain. Repeat until you have used all the dough. I got 8 doughnuts.

Leave doughnuts to cool for at least 30 minutes before rolling in sugar mixture. To make sugar mixture: place sugar and spices into a shallow bowl and gently stir until there are no lumps of spice and everything is combined.

Dunk each side of your croissant doughnuts into the sugar mixture and shake off any excess.

At this stage you can devour them all, or place them in an airtight container. These Pumpkin Spice Croissant Doughnuts are best eaten on the day you make them, however will keep for 2 days. They will be softer on the second day, without their crisp outside.


I link up at these great Link Parties!