My Apple Crumble Cupcakes are soft, apple filled and topped with deliciously smooth custard frosting and crunchy crumbles. The perfect way to enjoy a classic British dessert!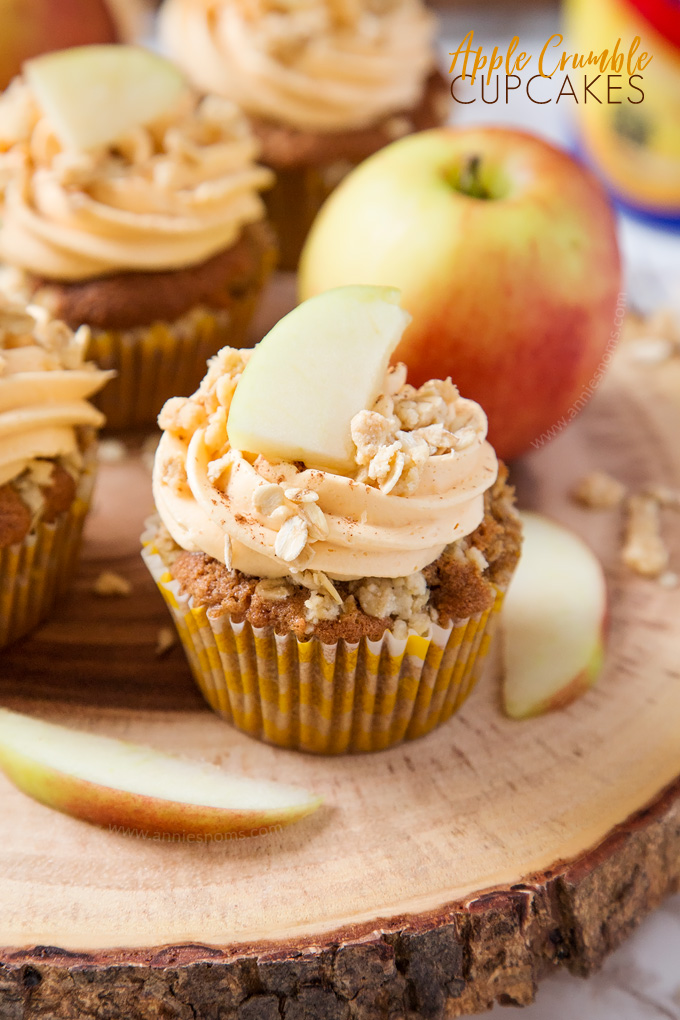 Well, hi there! How's your week going?
Boy, yesterday was a crazy, crazy day. By the time it got to bed time, I was ready to collapse. Phew, I'm glad that's over!
Anyway, today I've made a classic dessert into a cupcake!
I love a good Apple Crumble, slightly warmed and served with custard; to me it's the perfect way to say hello to Autumn.
So, obviously I had to take all of those fabulous elements and turn them into one seriously amazing cupcake!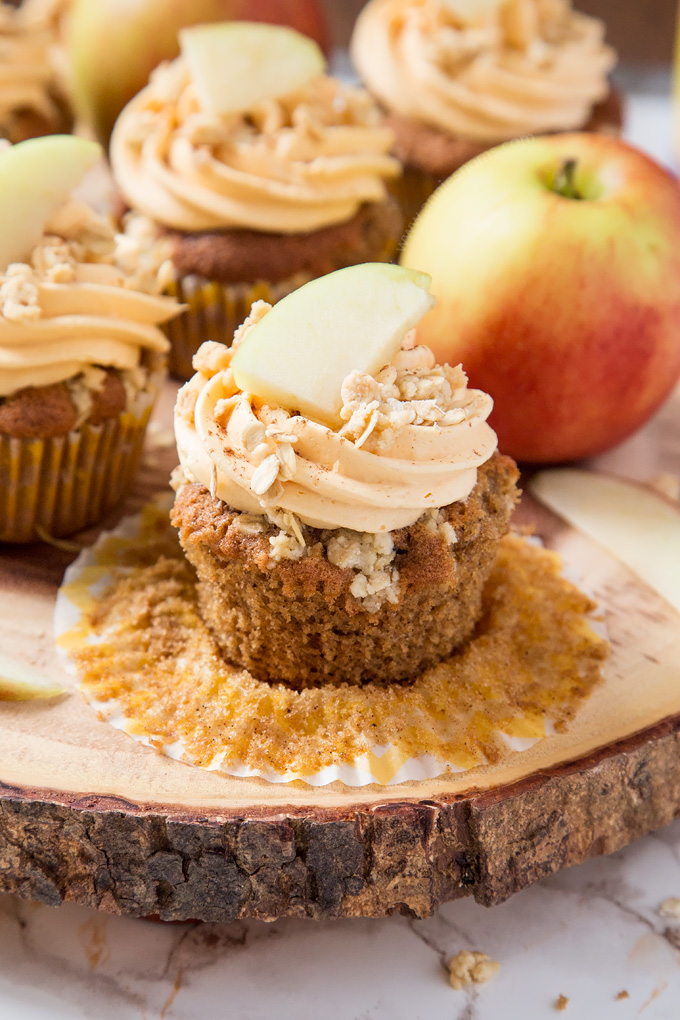 These cupcakes. Oh, man. They are fantastic! 🙂
I filled the cupcakes with chunks of apple, plenty of spices and then baked some crumble into the top of them.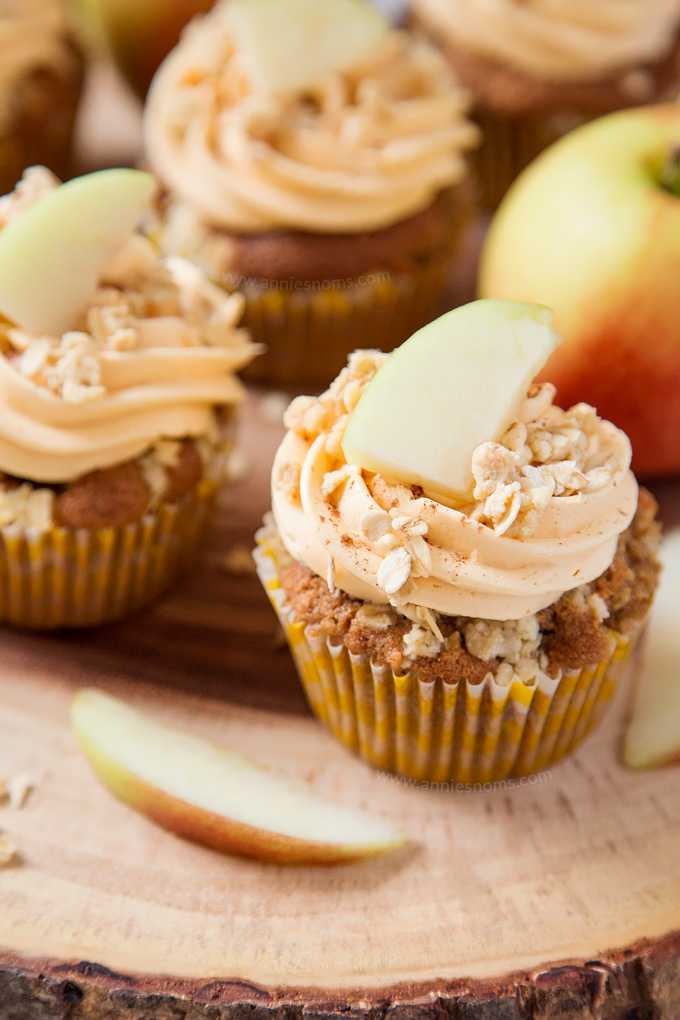 I made enough crumble to bake into the top and to top the frosting, so I placed the extra topping onto a baking tray and then baked it in the oven until crisp.
The crumbles were the cherry on the top for these cupcakes, the perfect juxtaposition to the soft cupcake and frosting.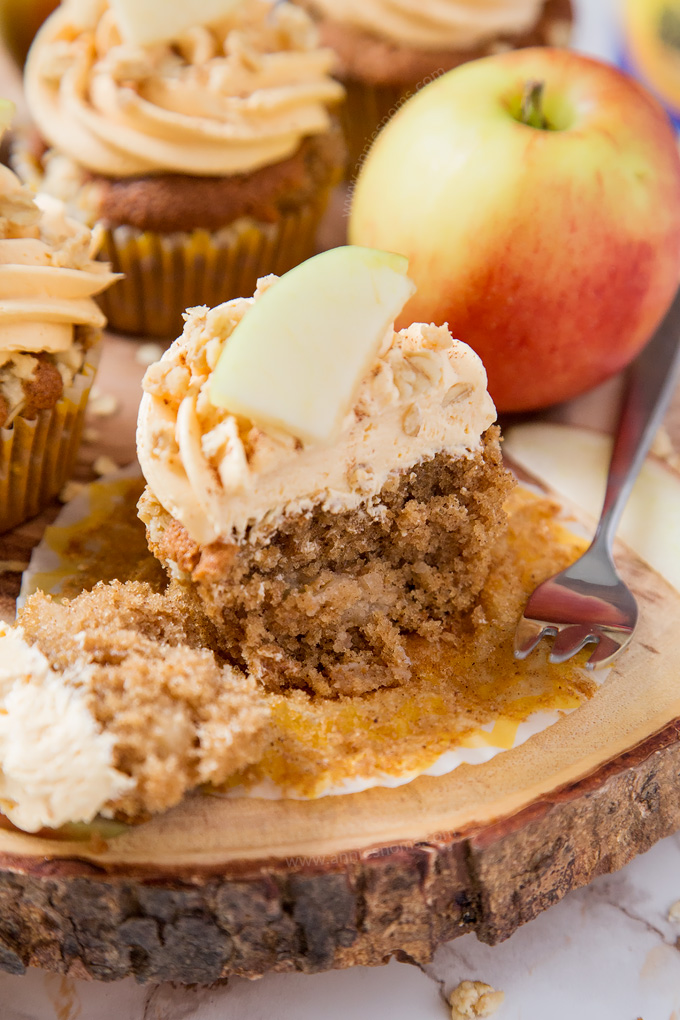 Speaking of frosting, can we just?
I put ½ a cup of custard powder into my buttercream and it turned it into this creamy, velvety smooth, sweet frosting that I wanted to eat by the spoonful. (OK, I did actually eat some by the spoonful).
Piped into swirls and topped with those crunchy crumbles you baked, these are Autumn in cupcake form for me.
I sent them into work with Mr AN, and they all disappeared within 2 hours. Everyone loved them, all the flavours marry up so well together, you must try these!

Apple Crumble Cupcakes
My Apple Crumble Cupcakes are soft, apple filled and topped with deliciously smooth custard frosting and crunchy crumbles. The perfect way to enjoy a classic British dessert!
Ingredients
For the cupcakes:

1

stick (113g) unsalted butter or margarine,

see note

¾

cup

(150g) light brown sugar

¼

cup

(50g) caster sugar

2

large eggs

1/2

tsp

vanilla extract

2

medium sized apples,

peeled, cored and cut into small chunks. I used Braeburn

1 1/2

cups

(210g) plain flour

1

tsp

baking powder

1

tsp

bicarbonate of soda/baking soda

Pinch of salt,

ONLY if using unsalted butter

1 1/2

tsp

ground cinnamon

Pinch of ground cloves

1/3

cup

(80ml) milk

For the crumble:

3

tbsp

unsalted butter,

cold and cubed

½

cup

(40g) rolled oats

½

cup

(70g) plain flour

¼

cup

(50g) caster sugar

For the frosting:

2

sticks (226g) unsalted butter,

at room temperature

2

cups

(240g) icing/powdered sugar

sifted

½

cup

(70g) custard powder,

I used Bird's custard powder

1

tsp

vanilla extract

1-2

tbsp

milk

6

thin slices of apple,

halved, optional

Some cinnamon for garnish,

optional
Instructions
Preheat the oven to 180C/350F and line a 12 hole cupcake tray with liners. Line a baking tray with grease proof paper/a silicone mat/Silpat.

Make the crumble topping: Place the butter, oats, flour and sugar into a medium sized bowl and rub between your fingers until you have a coarse breadcrumb texture with some larger lumps.

Place half the crumble mixture onto your lined baking tray and place in the oven for 10-15 minutes, whilst you make the cupcake batter. Stir the crumbles after around 5 minutes and return to oven. They are done when they look dry and are crisp to the touch. They won't really colour much, this is fine. Just make sure you can't see the "wet" butter, they should be dried out.

Make the cupcakes: place the butter and sugars into a large bowl or the bowl of your stand mixer and beat until light and fluffy, around 2 minutes on medium-high speed.

Add in the eggs and vanilla extract, scraping down the sides as necessary, and mix until well incorporated, around 1 minute.

Place the apple chunks, flour, baking powder, bicarb, salt (if using) and spices into a medium sized bowl and stir until all the apple chunks are coated in flour.

Tip into the egg mixture and add in the milk, mix on low-medium speed until well combined and there are no lumps of flour.

Divide the cupcake batter between the liners, I used a 2tbsp cookie scoop and filled it level. Fill each liner 2/3 of the way.

Sprinkle around 1tsp of the crumble topping onto the top of each cupcake and press very lightly so they stick in the top of the batter.

Place cupcakes in the oven for 18-22 minutes, until risen, golden and an inserted skewer into the centre comes out clean.

Transfer to a wire rack as soon as possible (I find this stops the liners peeling away from the sides) and leave to cool completely.

Once cool, place the butter into a large bowl, or the bowl of your stand mixer and beat until fluffy. Gradually add the icing sugar, beating in between each addition until incorporated, then add in the custard powder and vanilla extract and beat until well combined.

Add the milk 1tbsp at a time, if required, until you have a thick and creamy frosting which holds its shape, but isn't too stiff to pipe.

Half fill a piping bag fitted with an open star nozzle with the custard frosting and pipe a swirl onto each cooled cupcake.

Sprinkle some of the baked crumbles onto each cupcake and then garnish with half a slice of apple and a sprinkling of cinnamon, if desired.

Apple Crumble Cupcakes will keep in an airtight container, in the fridge for 3 days. Bring them up to room temperature before serving.
Notes
Note: I normally always use unsalted butter, but in cupcakes (bar chocolate ones) I love the flavour and texture margarine gives. You can use either. If you use margarine, don't add the extra salt.


I link up at these great Link Parties!