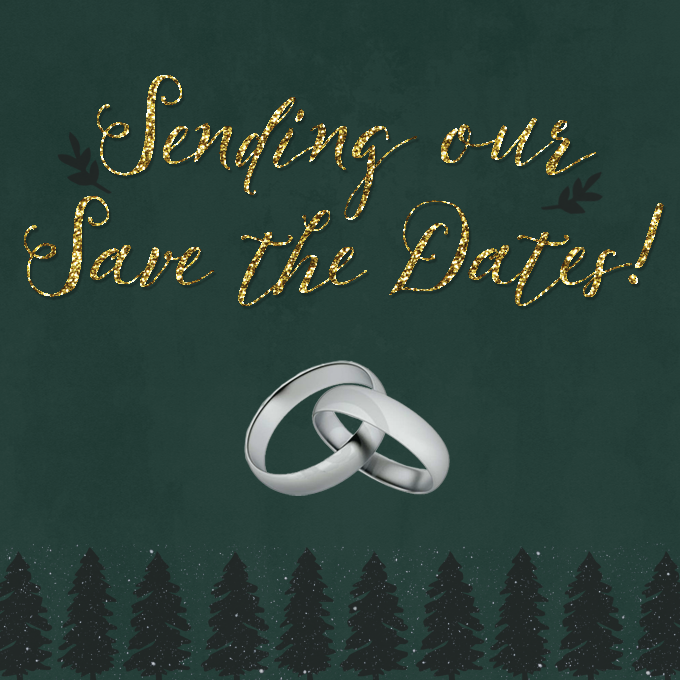 Howdy folks! How are ya?
Today I'm bringing you another wedding update; sending out our save the dates and asking my girls to be bridesmaids!
Now, I'm not one to follow rules, so I have no idea if I sent them out too early, but I figure that since we are going abroad and people need to book flights, hotels etc. the more time they have to do that, the better.
So, I got them all designed and printed a few weeks back and I don't know about you, but when I actually held them in my hand… it all started to feel quite real! It's under 18 months away now! AHHHHHHHHHH!!!
I'm doing all the wedding stationery myself (putting my design degree to good use for once!) and I've done the invites, rsvps, signs for the wedding and started the party invites so far. I'll show you all of them soon, so stay tuned for that!
Our colour scheme is dark green and gold. I always knew I would have dark green as my wedding colour, but the gold is new. I thought about going for a dark-ish grey, but as I started designing the stationery I just felt myself pulled towards gold.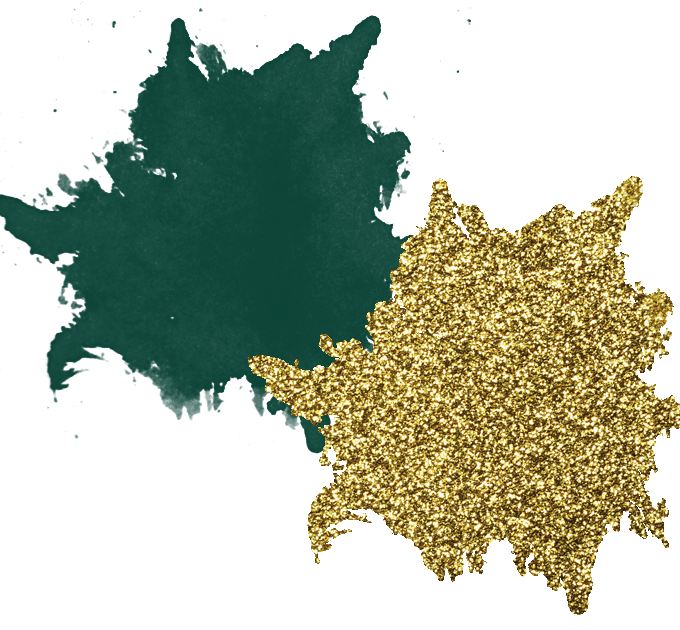 My brother was like "You're not going to make us where great blingy gold outfits are you?" and I promised him I won't hahaha!!! It's more for the party and little embellishments. The suits are going to be grey with white shirts and dark green ties. No gold brother, don't worry!
Since we are having a Winter wedding in the snow, I felt like the invites/save the dates needed to echo that and I wanted you to be able to look at them and think "winter wedding" – so I added some winter trees and snow to the save the dates (I almost put STDs for short then and then realised what that meant!! :D).
I mean, my family and friends all love them, but I'm never overly confident of my work, so I don't really think they're amazing… But I do like them and they printed out great too. I have changed the design ever so slightly for the rest of the wedding stationery, so they won't entirely match, but all the invites, rsvps, signs at the wedding etc. are all the same, so they will match. I normally have OCD about everything being perfect and matching, but I just feel like the design evolved slightly and that's OK.
So, here's the final Save the date! (I've blanked the exact place and Mr AN's surname for privacy reasons):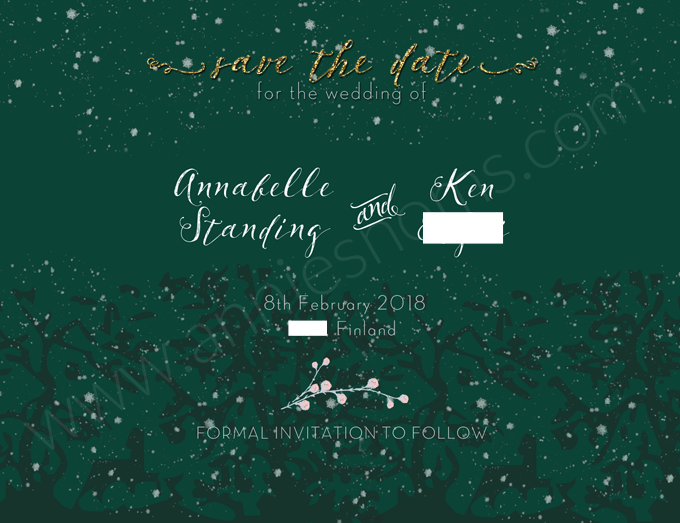 After getting the save the dates ready, it was time to turn my thoughts to asking my two friends to be my bridesmaid. I trawled Etsy for weeks trying to find the perfect gift that went with the wedding theme and I finally happened across these gorgeous bracelets.
They came gift wrapped in a box which magically fit with our theme too! To send them I ordered some dark green tissue paper and small cardboard boxes then nestled the bracelet inside the box on a bed of tissue paper. I then wrote a little card with "and wear this?" and tucked it onto the box before placing my "Will you be my bridesmaid?" cards right on the top, so they were the first thing you saw when opening the box.
Here are the cards I made: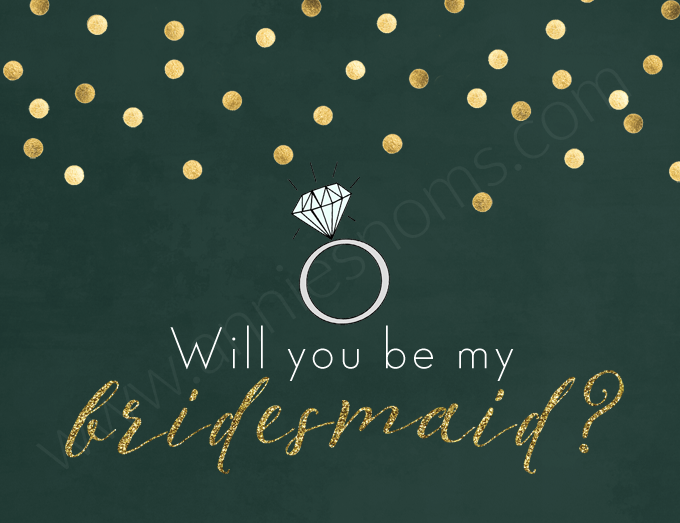 As you can see, the background has changed a little from the Save the Date and this is the background I'm going with for all the other wedding stationery. It has a little more depth and texture (I bought a set on Creative Market which has chalkboard photoshop files.) and overall I think it fits the look I'm going for better.
So, that's it for today. I'll be sharing our invites and rsvps soon, but until then, here's a little sneak peek of the invites…..!



I link up at these great Link Parties!