Light and fluffy Eggnog laced cupcakes with a creamy, smooth Eggnog frosting make these the perfect Holiday cupcake!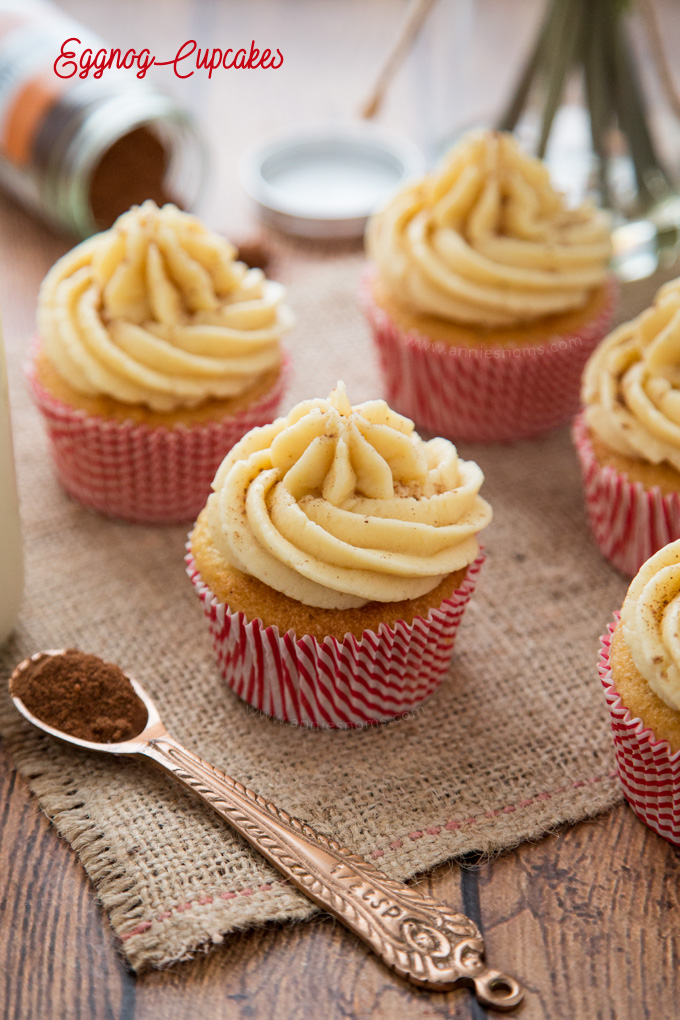 Happy Tuesday friends!! Before we talk about these glorious Eggnog cupcakes we have to talk about why I am so excited today…!
….We booked the holiday part of our wedding!!! Eeeeeek, it is all starting to feel super real now! All the save the dates were sent out ages ago, the venue was booked months ago, but we were waiting on the holidays and flights being released before we could book them.
That finally happened on Friday! YAY! The next thing on my list is to start looking for a dress!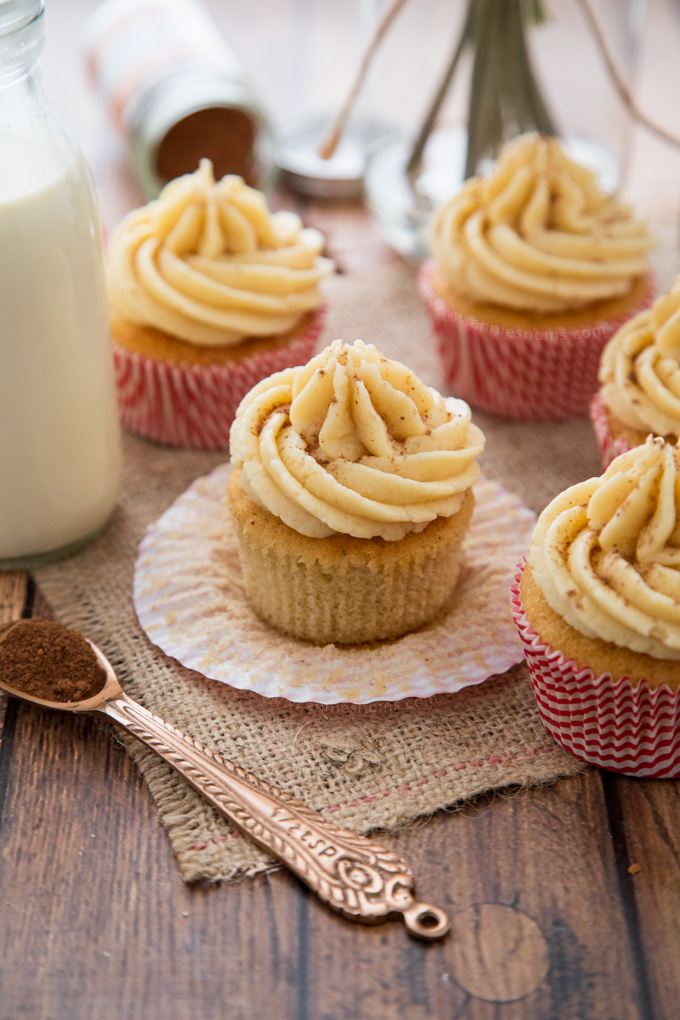 Is this even real life?! Ever since I was a kid, I've dreamt of having a winter wonderland wedding in the snow in a Finnish forest and now it's actually happening! Our wedding planner was saying they had a wedding the other day with loads of snow and it was so magical…
I also started looking for venues back here for the party. To be honest, that's been my biggest headache so far (I'm so chilled out about it all, it's kind of ridiculous!) because all the venues want to push you to have a full reception with a set menu. We just want to hire a barn and throw a relaxed party where people can enjoy some food and have a dance.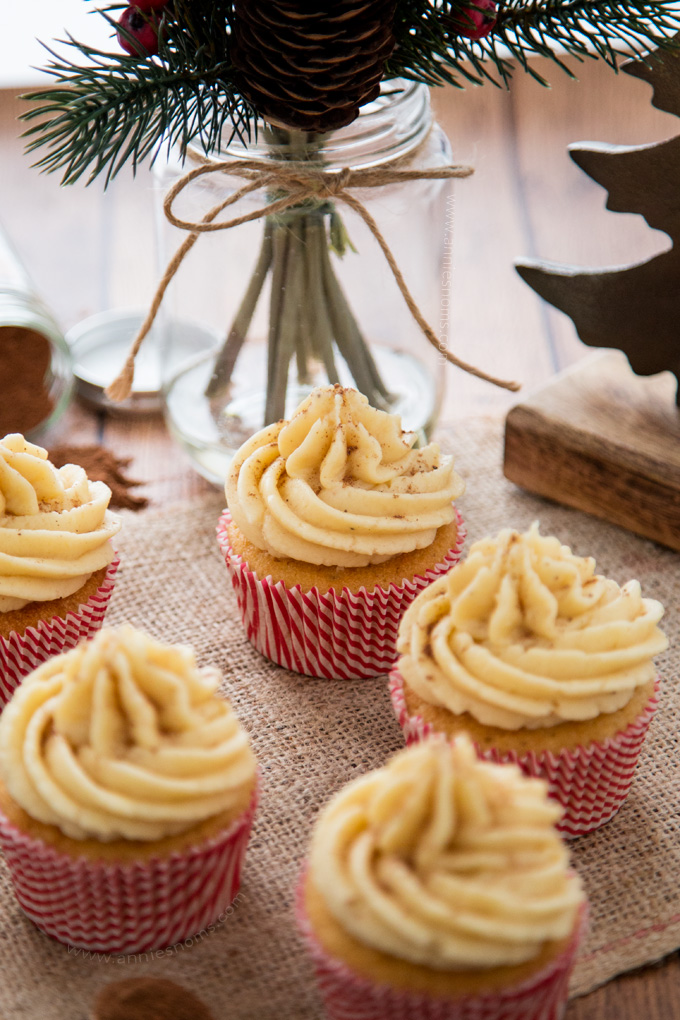 I have found one place which looks promising. It's a beautiful barn and they say you can just have a party… so fingers crossed!
The only other places I found were village halls and they remind me of school discos. Not really grand enough for a wedding party. And anyway, I have this vision in my head of a cute little barn decorated in dark green and gold with rustic woodland things… so I will find a place like that haha!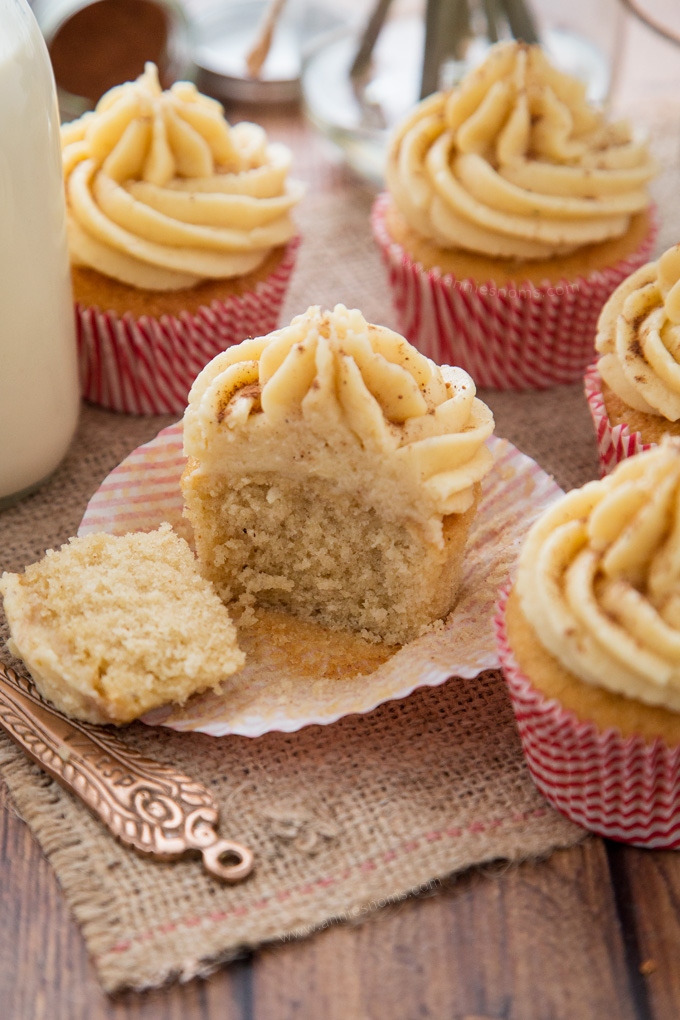 Wooo… sorry for going off on a tangent. Now. Cupcakes. Specifically Eggnog Cupcakes. I used my homemade eggnog to make these and they turned out utterly scrumptious!
Hints of nutmeg, sweet eggnog just singing through. Oh these are pure Christmas in cupcake form! I can't get enough of them; I may have just had one for breakfast!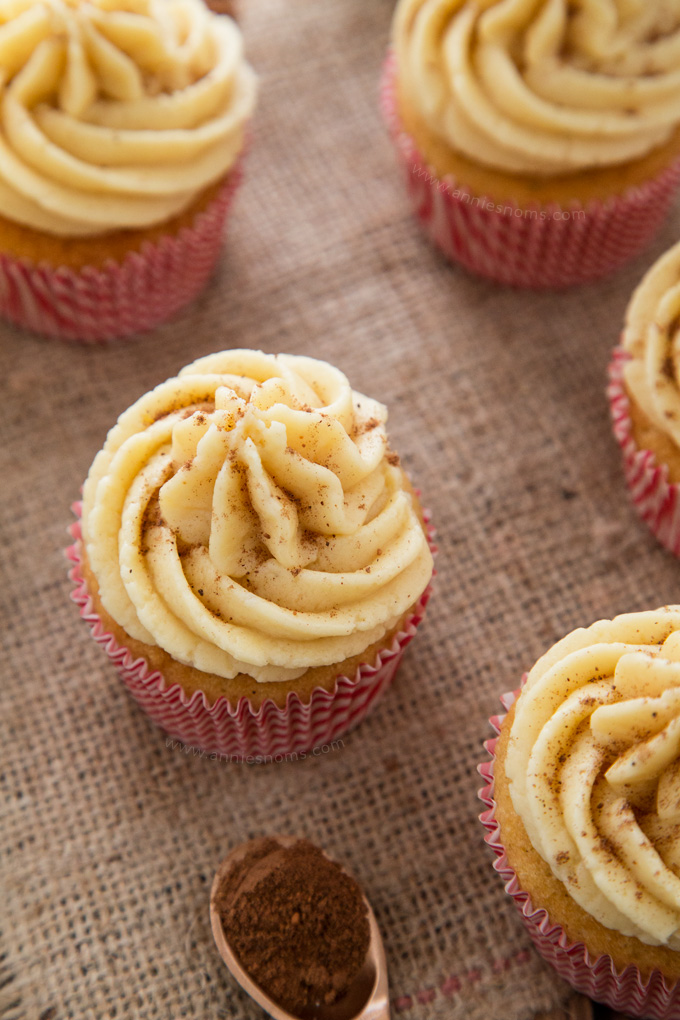 The best bit? They're super easy to make! I kept my decorating pretty plain, just with frosting and a sprinkling of nutmeg, but you could let the kids go wild decorating them with sprinkles and festive cupcake toppers.
I'm off to make Peppermint Mocha Cookies; hope you enjoy these cupcakes!

Eggnog Cupcakes
Light and fluffy Eggnog laced cupcakes with a creamy, smooth Eggnog frosting make these the perfect Holiday cupcake!
Ingredients
For the cupcakes:

1

stick (113g) unsalted butter or margarine,

at room temperature

1

cup

(200g) caster/white sugar

2

large eggs

2

tsp

vanilla extract

1 1/2

cups

(210g) plain flour

2

tsp

baking powder

1/2

tsp

ground nutmeg

Pinch of salt,

ONLY if you're using unsalted butter

2/3

cup

(160ml) eggnog

1

tbsp

alcohol of your choice,

optional (bourbon, rum… whatever you prefer!)

For the frosting:

2

sticks (226g) unsalted butter,

at room temperature

1

tsp

vanilla extract

1/4

tsp

ground nutmeg

Pinch of salt

2 3/4

cups

(330g) icing/powdered sugar,

sifted

1/3

cup

(80ml) eggnog
Instructions
Preheat the oven to 180C/350F and line a 12 hole cupcake tray with liners.

Place the butter/marg and sugar into a large bowl, or the bowl of your stand mixer and beat on medium-high speed until light and fluffy, around 2 minutes.

Add in the eggs and vanilla extract, scraping down the sides as necessary, and beat until well combined and smooth, around 1 minute on medium-high speed.

Add in the flour, baking powder, nutmeg and salt if using and mix on low until the mixture just starts to come together, then add the eggnog and alcohol, if using.

Continue to mix on low-medium speed, until your mixture is smooth and well combined.

Divide the mixture between your liners, filling each liner ¾ full. I use a 2tbsp cookie scoop to ensure even cupcakes.

Place in the oven for 18-22 minutes, until risen, lightly golden and an inserted skewer into the centre comes out clean.

Transfer to a wire rack to cool as soon as possible to ensure cakes don't peel away from the liners.

Once completely cool, make the frosting: Place butter and vanilla extract into a large bowl and beat until light and fluffy.

Add in the nutmeg, salt, a little icing sugar and a little eggnog. Mix until the sugar starts to combine. Continue to gradually add icing sugar and eggnog, mixing in between each addition until you have a light and fluffy frosting.

Half fill a piping bag fitted with an open star nozzle and pipe a swirl onto each cupcake. Sprinkle each cupcake with a little nutmeg.

Eggnog Cupcakes will keep in an airtight container, in the fridge for 3 days.


I link up at these great Link Parties!