My thick, chewy Peppermint Mocha Cookies are everyone's favourite Christmas beverage in cookie form! Rich and chocolatey, with plenty of mint and a hint of coffee, these are completely addictive!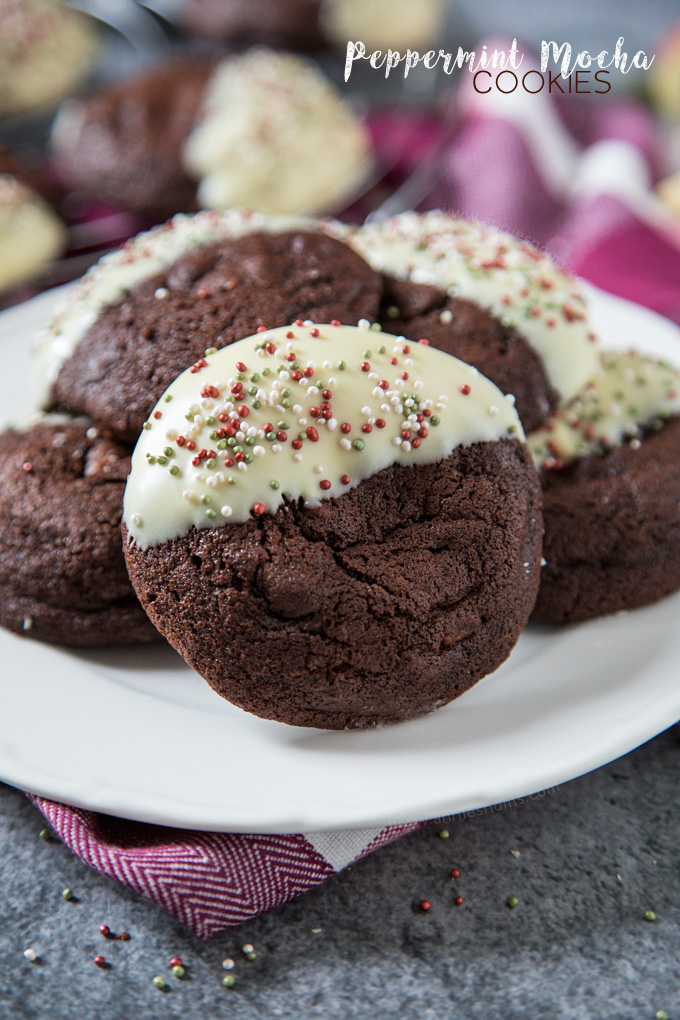 Oh boy. Am I sick of family drama already!? The fact they think they can make swipes and judgmental little digs and it's OK "'cos they're family" – it's such BS.
Give me five of these amazing, chewy Peppermint Mocha Cookies and a huge mug of coffee because I'm over it and need to unwind!!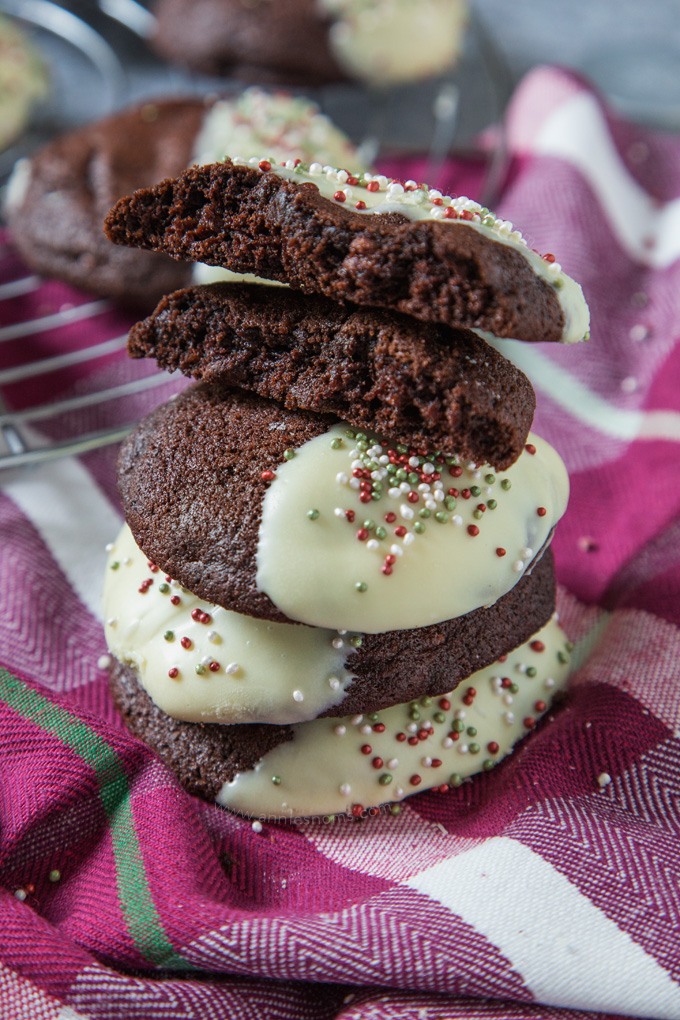 Don't you just think life is too short for negative people who are constantly plotting together and doing everything they can to push your immediate family out of the wider family?
Well, they succeeded; I just want a quiet life! It's almost Christmas, I'm tired after a busy year and I just want to enjoy Christmas. I don't need added stupidity from supposed family.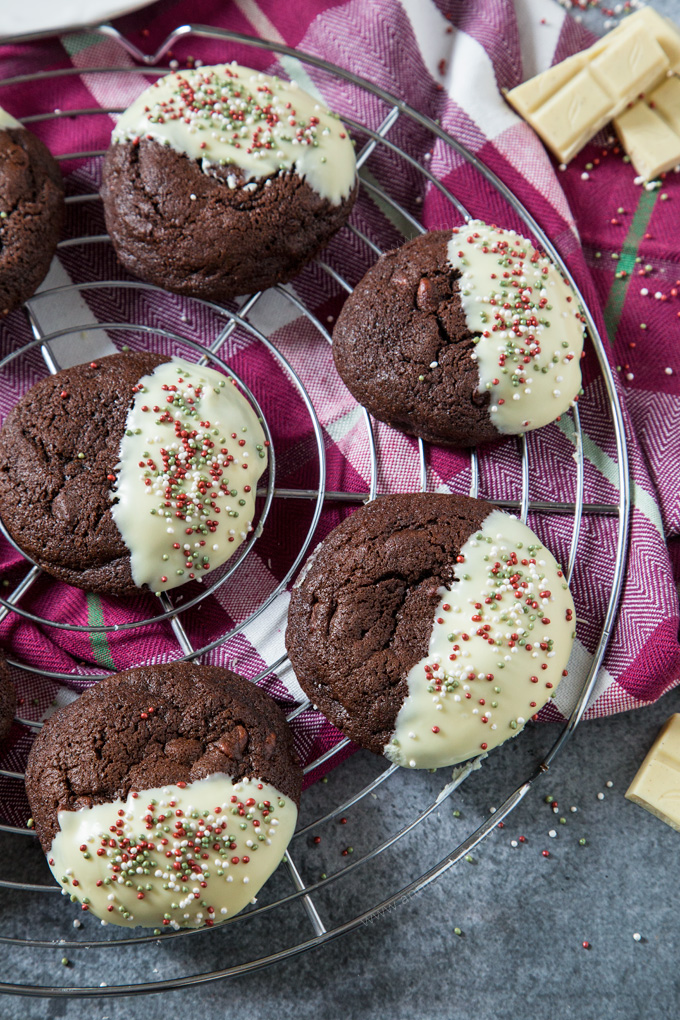 You want to know the best bit? Two days after their latest BS (which I can't go into just yet. In a few months I'll be able to explain), one of them emailed all like "Hi, hope you're OK, what do you want for Christmas?" – I mean, do they think my parents and I don't speak? We do. Every day. I know exactly what they've been doing and I'm not game.
Ugh. Glad to have that off my chest! I just feel like as long as I have Mr AN, my parents and brother, then that's all I need family wise.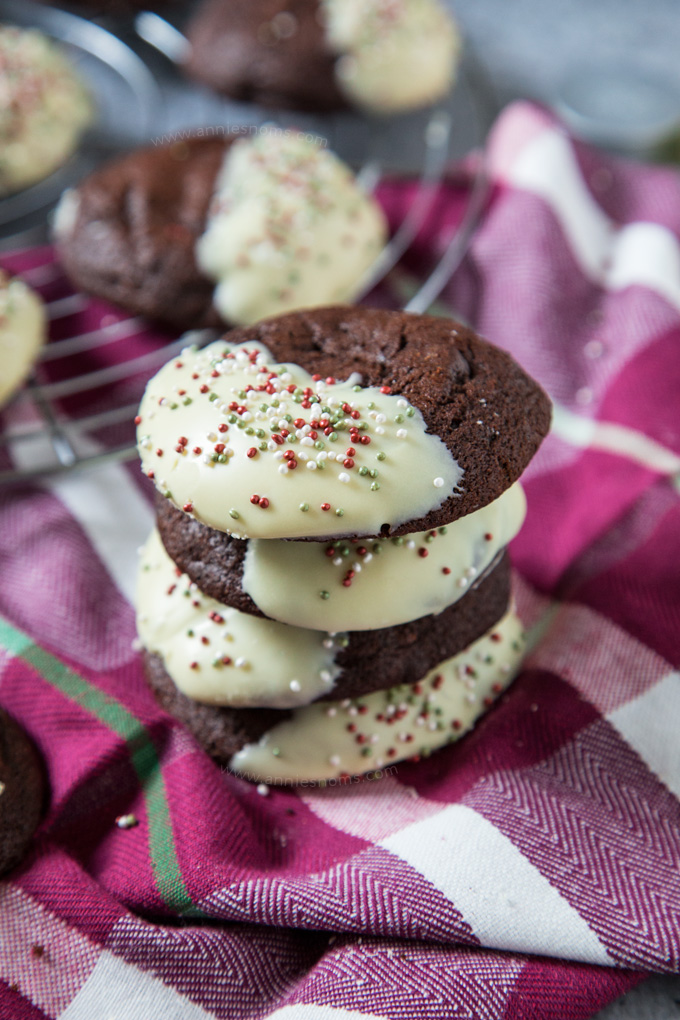 SO. Cookies! I don't know about you, but I always get a Peppermint Mocha or Gingerbread Mocha at Starbucks when it's Christmas; and it doesn't feel like Christmas until I've had one!
Unfortunately, in the UK, it seems like we don't always get Peppermint Mocha's! 🙁 Some years we do, but this year we haven't, so Mr AN has been making his version for me at home and I decided I needed to make them in an edible format!
These cookies are so chewy and soft, it's unbelievable! I packed ½ cup of cocoa powder, 1 cup of chocolate chips, 1 and 1/2tsp of peppermint extract and a tablespoon of freshly ground coffee beans to make these seriously rich and flavourful cookies!

Peppermint Mocha Cookies
My thick, chewy Peppermint Mocha Cookies are everyone's favourite Christmas beverage in cookie form!
Ingredients
1

cup

(140g) plain flour

½

cup

(50g) cocoa powder

1

tbsp

cornflour/cornstarch

1

tsp

bicarbonate of soda/baking soda

Pinch of salt

1

cup

(175g) milk chocolate chips

1 3/4

sticks (200g) unsalted butter,

at room temperature

1

cup

(200g) light brown sugar

2

large eggs

1 1/2

tbsp

peppermint extract

1

tbsp

freshly ground espresso dissolved in 1tbsp hot water;

you can also use 1tbsp instant coffee

8

oz

/225g white chocolate,

melted and slightly cooled, optional

Christmas sprinkles,

optional
Instructions
No need to preheat the oven yet, this dough needs to chill!

Place flour, cocoa powder, cornflour, bicarb, salt and chocolate chips into a medium sized bowl and mix until all the chocolate chips are coated in flour. Leave to one side.

Place butter and sugar into a large bowl, or the bowl of your stand mixer and beat on medium-high speed until light and fluffy, around 2 minutes.

Add in the eggs and peppermint extract, scraping down the sides of the bowl as necessary and mix on med-high speed until well combined and smooth, around 1 minute.

Add in the 1tbsp of brewed coffee and tip in the flour/cocoa mixture. Mix on low until a soft dough forms and there are no lumps of flour.

Transfer the dough to a medium sized bowl (the one you measured the flour in is fine) and cover with cling film. Place in the fridge to chill for at least 6 hours, overnight if possible.

Once the dough is chilled, preheat the oven to 180C/350F and line 2-3 baking trays with a silicone mat/Silpat/grease proof paper.

Using a 1.5tbsp cookie scoop, place dough balls 2 inches apart on the baking trays and flatten them ever so slightly with the palm of your hand, so they don't roll away!

Place in the oven for 9-11 minutes, until the edges are slightly crisp, but the middle still looks a little soft. If you look in the light of the oven, the top will look kind of matte and not wet and shiny.

Leave to cool on the baking trays.

At this stage, you can stop and enjoy the Peppermint Mocha Cookies or you can place the melted white chocolate into a small bowl and dunk each cookie into the chocolate, to cover each cookie half way.

Place on a wire rack with kitchen paper underneath it and sprinkle with Christmas sprinkles. Leave for 45 minutes – 1 hour to set before enjoying!

Peppermint Mocha Cookies will keep in an airtight container, at room temperature for 5 days.


I link up at these great Link Parties!