Rich and velvety smooth Pumpkin Spice Hot Chocolate is THE beverage to get you through any cold Autumn night. Sweet, rich and spicy, it also has real pumpkin in!
As we head into the penultimate month of 2017, I've been reflecting on the year so far and I'm feeling so unbelievably grateful and thankful for so much in my life… the fact my parents are my parents; I'm so glad dad isn't like his family. I'm so glad mum stands up to people who try and control us. I'm thankful for my dad's sacrifices when we were growing up, so he could provide for us and we'd always have one parent at home.
I'm thankful for the fact I've been brought up to have great morals, be grounded, cope with the big scary world and to not let people use me. I'm glad I have a backbone and speak up when I think something is out of order. I'm grateful that my parents support me with every decision I make; be it changing my degree mid way through or not forcing me to invite relatives I don't like to my wedding.
I'm thankful I have a job, a roof over my head, food on the table, my fiancé, our relationship, the life we have together…. that we had our darling Poppy for so many happy years. She's so greatly missed still, but I know we gave her the best life and she made me so happy everyday. Now I try and remind myself every day what a blessing she was and I hope she's looking down on me and thinking I'm doing an OK job at this life stuff.
Life has taught me that surrounding yourself with positive, loving people is invaluable and that you don't need anyone who drags you down.
I'm also beginning to think about what I have to look forward to… I'm not going to lie, this year has been the hardest yet, when it should have been one of the happiest. I'm ready for it to be over now and for us to wake up on January 1st to a fresh start and only 8 weeks until we're married.
I don't like to wish time away as I normally feel like I blink and miss things, but this year has been such a challenge.
While sitting here reflecting, I've been enjoying a steaming cup of this Pumpkin Spice Hot Chocolate and a biscuit. This thing called life is a funny old thing.
I've made a few incantations of hot chocolate over the years including this Gingerbread one and I suddenly realised that, as someone so obsessed with pumpkin, I hadn't made a pumpkin spice version.
Well, that had to change, so here we are!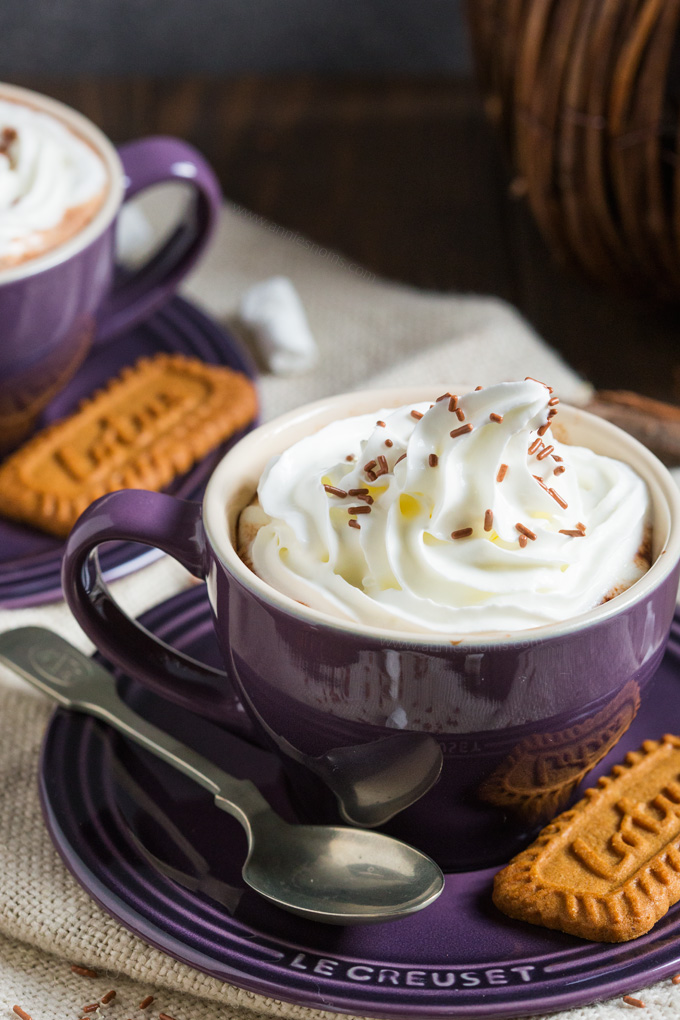 This hot chocolate has real pumpkin, pumpkin spice, hot cocoa and whipped cream to make one seriously decadent, yet scrumptious hot beverage. The best bit?
It's SO easy to make!
Place almost all of the ingredients into a saucepan, stir them while bringing them to a simmer, divide between mugs (or pour yourself a huge mug if you'd rather) pipe some whipped cream on and finish with some chocolate sprinkles if you're feeling fancy. I'm always feeling fancy, so the chocolate sprinkles are a given 😉
Sit with a mug of this hot chocolate, a biscuit, snuggle up on the sofa and watch crap TV and you've got the perfect evening IMO…! Enjoy!
Pumpkin Spice Hot Chocolate
Rich and velvety smooth Pumpkin Spice Hot Chocolate is THE beverage to get you through any cold Autumn night. Sweet, rich and spicy, it also has real pumpkin in!

Ingredients
3

tbsp

pumpkin purée

3-4

tbsp

light brown sugar

1/4

cup

(25g) cocoa powder

1 1/2

tsp

pumpkin pie spice

1/2

tsp

vanilla extract

2

cups

(480ml) milk,

I used skim

Whipped cream, marshmallow, chocolate sprinkles, cinnamon,

to serve (optional.. but not really! ;))
Instructions
Place pumpkin purée, sugar, cocoa powder, pumpkin pie spice and vanilla extract into a medium sized saucepan.

Gradually add the milk, whisking as you go, then turn the heat on low and stir frequently until the mixture is smooth with no lumps of cocoa powder.

Bring to a gentle simmer, continuing to stir so nothing sticks. Remove from the heat and ladle into mugs. This will serve 2-3 people depending on the size of mug.

There are lots of ways you can garnish; with marshmallows, with cream and a sprinkling of cinnamon, with cream and chocolate sprinkles... go wild with toppings!
I link up at these great Link Parties!